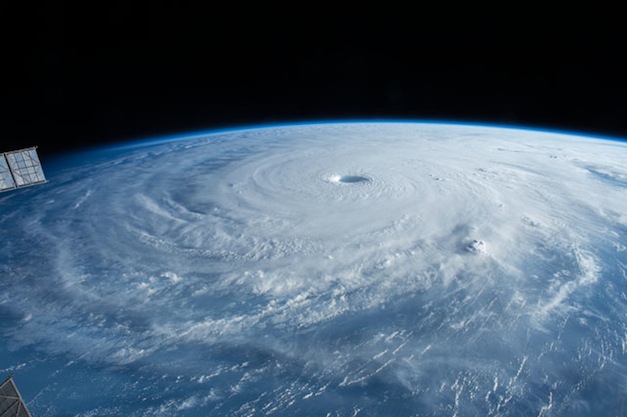 The world's first typhoon-powered wind turbine looks to harness the energy of storms in Japan.
Designed by Atsushi Shimizu and his company Challenergy, the new turbines look to capitalize on what is typically just destruction: the super storms that often strike Japan.
"Typhoons are normally nothing but a disaster," Shimizu told CNN.
In fact, such storms hit with such force that they have a tendency to damage and destroy the European style wind turbines that Japan has utilized in the past. Shimizu's turbines on the other hand, are ultra durable and designed to withstand even the most sever typhoons and tropical storms.
Want more positive news? Sign up for our newsletter right HERE.
To accomplish this, Shimizu and his team made two integral changes. The first: they created the turbine in the shape of an eggbeater with an omnidirectional axis to help it withstand volatile shifts in the wind's direction.
The second is that the turbines had the Magnus effect incorporated into their design. By tightening the center rod, Shimizu and Challenergy are able to control the speed of the blade, enabling it to harness the force of the Magnus effect — the force responsible for a ball swerving in flight.
Such changes make Shimizu's turbine capable of capturing incredible amounts of energy. And since a mature hurricane, according to Atlantic Oceanographic & Meteorological Laboratory, produces an amount of kinetic energy "equivalent to about half the world-wide electrical generating capacity," such storms are a source of energy worth tapping into.
Shimizu estimates that a single typhoon could produce enough energy to power all of Japan for 50 years.
And now, Challenergy is waiting to test their turbine in a live typhoon. After that, it will be about installing the turbines in places that will generate attention as well as power.
Want more positive news? Sign up for our newsletter right HERE.
"I want to install our wind-power generator at the new National Stadium [for the 2020 Olympics]," Shimizu told CNN. "Or on the Tokyo Tower, because the Eiffel Tower installed a wind-power generator last year at the time of the COP21 (climate summit)."
"We are responsible for changing the future," he said.
For their innovation, for seeing the potential of turning a destructive event into a positive force, and continuing the push toward a renewable future, we are happy to name Atsushi Shimizu and Challenergy our Luminaries of the week.
Visit Challenergy here.
—————————————————————————————————————————————————