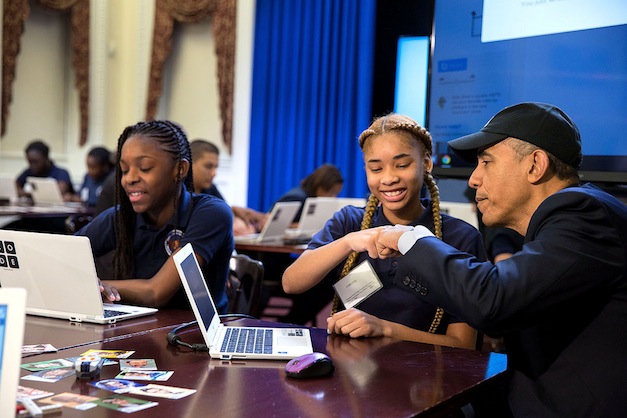 A new White House program called "Computer Science For All," or "CS For All," proposes to use $4 billion to boost computer education in schools around the country.
The program is part of a comprehensive initiative to make computer sciences and computer education primary tools for students in the 21st century. CS For All will impact children at all levels in their education and equip them with "computational thinking skills they need to be creators in the digital economy, not just consumers, and to be active citizens in our technology-driven world," a White House statement says.
Want more positive news? Sign up for our newsletter right HERE. 
The $4 billion, which is being proposed as part of the budget for President Obama's final year in office, will go directly to states committed to reinvigorating their computer science programs. The money will be disbursed through the Department of Education, with each interested state applying for funds.
An additional $100 million will go directly to school districts. All of the funding will go towards "training teachers, expanding access to high-quality instructional materials, and building effective regional partnerships," the White House summary states.
Last year, according to the White House, there were over 600,000 computer science jobs that went unfilled. And in just two years more than half of all STEM (Science, Technology, Engineering, and Math) jobs will be in computer science. Yet only 25 percent of K-12 schools offer classes in the subject. And just 22 states even offer credit for the classes. Obama's initiative hopes to change this, making computer sciences more readily available to all students.
CS For All also hopes to help diversify the computer science industry, stating, "in 2015, only 22 percent of students taking the AP Computer Science exam were girls, and only 13 percent were African-American or Latino students… We can do better!"
Want more positive news? Sign up for our newsletter right HERE. 
In addition to training educators and expanding access to the proper technology, the plan also hopes to secure funds from the National Science Foundation (NSF), get local politicians, governors, and mayors involved in expanding CS, and engage "CEOs, philanthropists, creative media, technology, and education professionals to deepen their CS commitments." The report also notes that more than 50 organizations have already signed on, including Microsoft, Google, and Facebook.
The plan, while still awaiting budget approval, is a heartening expansion of public education to meet the ever-changing needs of the profession world. For more information visit the White House CS For All blog post here, and see how you can help here.
—————————————————————————————————————————————————