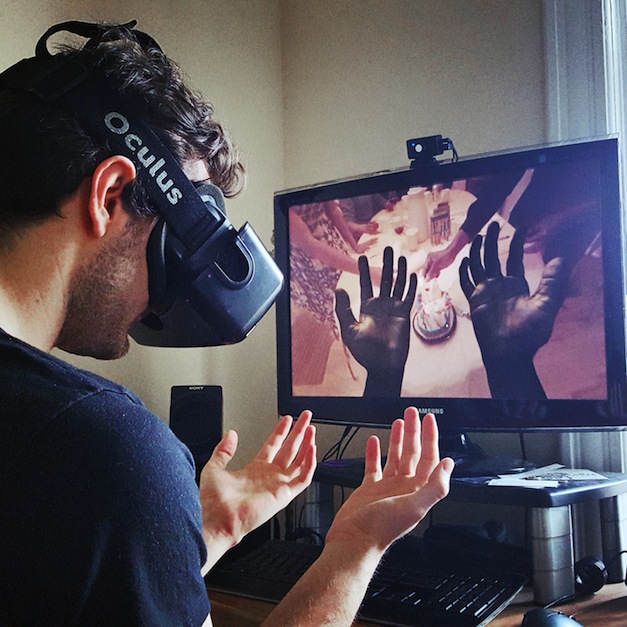 A new virtual reality program will allow young med students to experience life as a 74 year old.
"We Are Alfred," the name of the program created by Embodied Labs, aims to offer a revolutionary new way for doctors to build empathy with their geriatric patients. According to John Hopkins University, the average age of a first-year med student is just 24 years, and, as hard as they may try, understanding the daily aches, pains, and challenges of someone 50 years their senior may be difficult.
It's a problem Embodied Labs founder Carrie Shaw recognized in grad school.
Want more positive news? Sign up for our newsletter right HERE. 
"[Medical students] are usually in their early 20s and not experiencing those kinds of challenges yet, so we decided to create something that would give them the experience of what it might be like to go through the aging process," Shaw told the University of Illinois at Chicago News Center.
Shaw chose virtual reality — a budding and mostly untapped field — because nothing else can create the same sort of "human experience." She explained, "A video is contained within this box — your desktop computer, your TV screen — but that's not what a human experience is. A human experience is a world."
"We Are Alfred," which uses a virtual reality headset that includes goggles and headphones and a hand tracking system, is a roughly seven-minute experience. The immersive simulation takes users into the life of Alfred, who goes through a variety of scenarios, including a family birthday party and a cognitive test administered by a doctor.
Users, seeing life through Alfred's eyes, are challenged by a large black smudge at the center of their vision: macular degeneration. Macular degeneration is incurable and is the leading cause of vision loss for people over 55 according to the American Macular Degeneration Foundation.
Similarly, users will experience the difficulties related to hearing loss. "Taking The Cognitive Test," the scene involving Alfred's visit to the doctor, Alfred struggles to complete the test, but not because he has any cognitive problems. Alfred has a hard time because he just can't hear the doctor's instructions.
It's a scenario that boggled users. "I don't remember what I'm supposed to do," says a user in the video above. "I couldn't really hear and I couldn't see the test when he was describing it, so now I don't really remember what I'm supposed to do."
For now, "We Are Alfred" is still just a prototype. But Embodied Labs are hoping it can help to bridge the gap in empathy between patients and doctors. Especially as America continues to age: according to the Administration for Community Living, by 2040 roughly 25 percent of the population will be over 64, compared to 15 percent today.
Want more positive news? Sign up for our newsletter right HERE. 
"I think there's just so much strength in diversity. It speaks to the complexity of life," Shaw said. "If you work in one discipline, it's easy to focus in on that one thing, working with yourself, but if you can balance working across a group of people with different ideas and perspectives, what you create winds up looking a little bit more like the things we actually have to deal with in the world."
The faculty advisor on Shaw's project, Assistant Professor Eric Swirsky, put it this way: "The project is focusing on comfort. It's not curing, it's not curative, it's not even treatment-oriented. It's about comforting and understanding where the patient is so that you can be with him."
For her innovation, for her compassion, and for her desire to help the world connect, we are proud to name Carrie Shaw and Embodied Labs our Luminaries of the Week.
For more information about "We Are Alfred," go here.
—————————————————————————————————————————————————