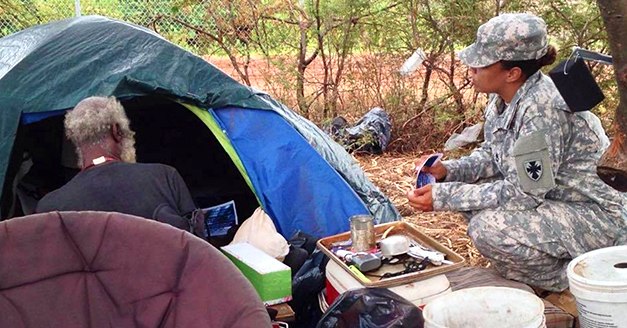 At the Disabled American Veterans convention in Atlanta on Monday, President Obama announced that the number of military veterans who are homeless has decreased by 47 percent since 2010.
According to the 2016 Housing and Urban Development's Point-in-Time Count of homeless people in the United States, 40,000 veterans were still homeless last year, but that estimate was down 17 percent from the previous year, and continues to show steady progress.
Want more positive news? Sign up for our newsletter right HERE. 
"The dramatic decline in veteran homelessness reflects the power of partnerships in solving complex national problems on behalf of those who have served our nation," Veterans Affairs Secretary Robert A. McDonald said in a U.S. Department of Defense press release.
"The men and women who have fought for this nation should not have to fight to keep a roof over their head, and I'm pleased that VA is serving more veterans than ever before with health care, education, job training and wraparound supportive services. While this is very real progress that means tens of thousands more veterans have a place to call home, we will not rest until every veteran in need is permanently housed," McDonald added.
The Housing and Urban Development estimate from January 2016 shows that there are around 13,000 homeless veterans living in the street, which is down an estimated 56 percent since 2010.
Getting housing and support for veterans who served in the United States military forces has been a team effort between many federal, state, and local governments, programs, and organizations. Private citizens and corporations have also reached out to disabled veterans in need to provide smart home technology.
Want more positive news? Sign up for our newsletter right HERE. 
First lady Michelle Obama started the Mayors Challenge to End Veteran Homelessness in 2014, which led to 27 communities and two states completely eradicating veteran homelessness. So far, 880 government representatives including mayors, governors, and local officials have joined in the campaign, which is an ongoing effort to provide shelter and aid to veterans who are struggling.
Matthew Doherty, the executive director of the U.S. Interagency Council on Homelessness stated that, "Together, we are proving that it is possible to solve one of the most complex challenges our country faces. This progress should give us confidence that when we find new ways to work together and when we set bold goals and hold ourselves accountable, nothing is unsolvable."
—————————————————————————————————————————————————
Quick Stats from the White House on Progress Helping Veterans:
Overall veteran homelessness has decreased by 47% since 2010, and unsheltered homelessness has decreased by 56%.
Since its inception in 2009, the Post-9/11 GI Bill has provided $65.2 billion in education benefits to over 1.6 million individuals.
The veteran unemployment rate has now dropped to 4.2%, compared to a high of 9.9% in January 2011.
VA has reduced the disability compensation claims backlog by nearly 90% over the last three and a half years, taking the number from a high of over 610,000 to under 80,000 today.
VA has increased its total clinical work by 10% over the last two years. That translates into roughly 20 million more hours spent providing care for veterans.
—————————————————————————————————————————————————
Featured Image Courtesy of U.S. Department of Defense