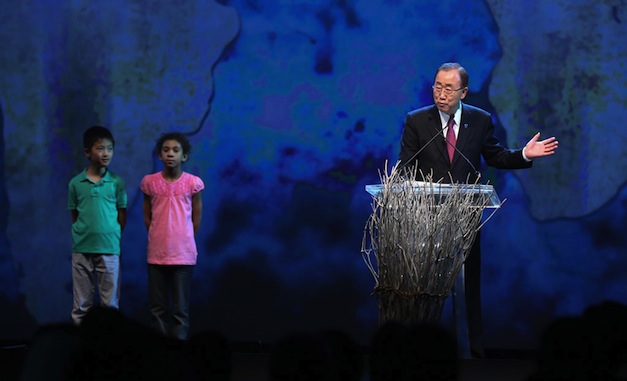 On Monday, the United Nations Children's Fund (UNICEF) announced a new world wide initiative called "Education Cannot Wait" designed to reach 13.6 million children and youth who are currently affected by humanitarian emergencies and protracted crises, such as conflict, natural disasters and disease outbreaks.
"There is an urgent need to ensure that kids who are forced into refuge are not denied an education," said U.S. Agency for International Development Administrator Gayle Smith.
Want more positive news? Sign up for our newsletter right HERE. 
According to UNICEF, less than 2 percent (on average) of humanitarian aid goes towards funding education. That's why the UN is looking to raise 3.85 billion over the next five years "to bridge the gap between humanitarian interventions during crises and long-term development afterwards, through predictable funding."
Says Smith, "Education Cannot Wait has the potential to chart the path forward by developing the tools we need to deliver education and offers the promise of unlocking new sources of funding."
Official supporters confirmed the significance of the initiative. "GPE strongly supports Education Cannot Wait and is committed to make it a success so children can continue going to school during times of conflict, emergencies and protracted crises," said Julia Gillard, Chair of the Global Partnership for Education (GPE).
"This is the right initiative at the right time. We must step up our efforts to deliver quality education to children and youth in conflict zones and crises. We cannot afford a future with millions of children without education," added Norwegian Minister of Foreign Affairs Mr. Børge Brende.
The new initiative was announced on the opening day of a two day World Humanitarian Summit currently wrapping up its second day in Istanbul.
Want more positive news? Sign up for our newsletter right HERE. 
Sarah Brown, the Executive Chair of the Global Business Coalition for Education and President of the children's charity TheirWorld, displayed some of the artwork of refugee children giving them a voice at the Summit. The drawings illustrated what a safe school means to them (see video above).
UN Secretary General, Ban Ki-moon, has called on the world to establish five responsibilities in this time of unprecedented instability, which include to respect the rules of war, to leave no one behind, work to prevent conflict, work to eliminate need and to actually invest in humanity.
"We are here to shape a different future," Ban said. "Today we declare: we are one humanity with a shared responsibility."
—————————————————————————————————————————————————
Image Credit: UNOCHA