This week, the United Nations and World Health Organization (WHO) have mobilized to give vaccinations for yellow fever to over 14 million people in the African countries of Angola and the Democratic Republic of the Congo (DRC).
This is one of the largest emergency vaccination campaigns ever, with Ministries of Health in both countries coordinating with 56 global partners to have people at risk vaccinated in more than 8000 locations.
Want more positive news? Sign up for our newsletter right HERE. 
The spread of yellow fever in the region has affected densely populated urban areas, as well as harder-to-reach rural villages. Vaccination efforts have already treated 13 million people in Angola and 3 million in the DRC, but 400 people have already died from the outbreak, and thousands have fallen ill.
Since January, 19 million doses of yellow fever vaccine have been supplied to these countries thanks to cooperation between many different international organizations and local governments. Fast tracking the vaccination campaign process was very important to distribute the treatment before the rainy season starts in September.
"The quantity of the syringes needed was not available on the open market, so we made a special order to manufacture these syringes," said Guillaume Queyras, responsible for Operations Support and Logistics at WHO, in a statement. "Supply of the syringes usually takes more than 2 months. Given this emergency situation, manufacturers worked with us to speed up production and deliver the syringes on time in the country."
Due to the dire circumstances surrounding the outbreak, coupled with limited supplies and resources, the WHO decided to administer fractional doses amounting to one fifth of the usual vaccination dose. According to experts, this dose is still effective to protect people for up to one year, and sometimes significantly longer than that.
Want more positive news? Sign up for our newsletter right HERE. 
Thanks to previous vaccination efforts, the WHO announced last year that Nigeria went from having a serious polio epidemic to being completely free of the disease, so there is hope that yellow fever can be eradicated through the mass administration of vaccines.
William Perea, Coordinator for the Control of Epidemic Diseases Unit at WHO concluded that, ″Protecting as many people as possible is at the heart of this strategy. With a limited supply we need to use these vaccines very carefully…In order to vaccinate roughly 8 million people in Kinshasa within a short period, each team will need to vaccinate hundreds of people per day."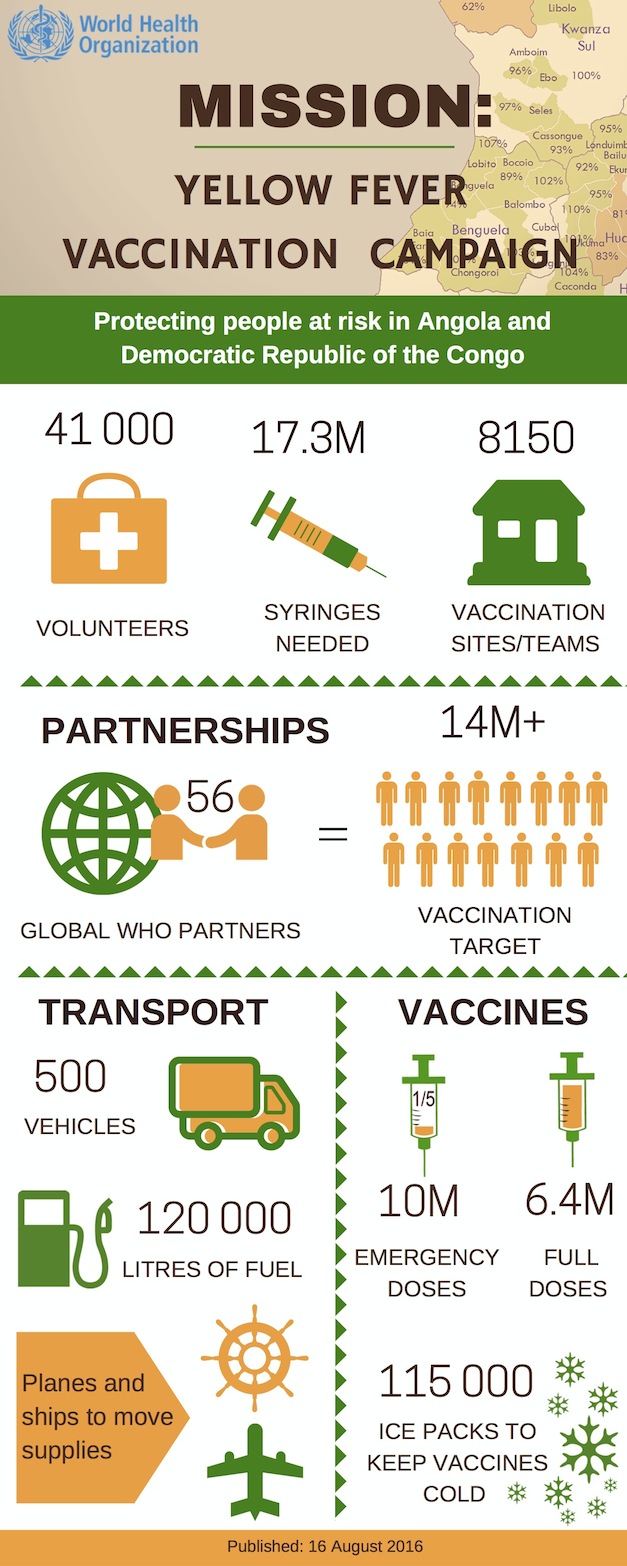 —————————————————————————————————————————————————