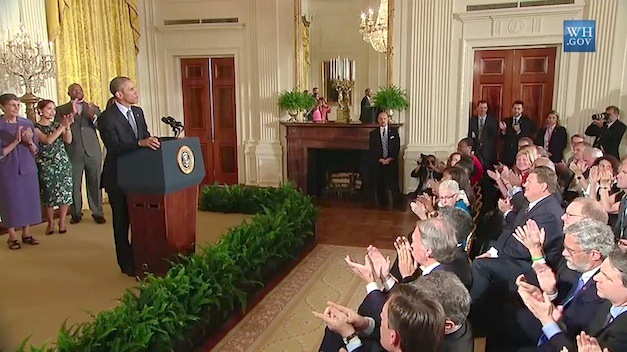 Earlier today, President Obama and Environmental Protection Agency (EPA) Administrator Gina McCarthy released the final "Clean Power Plan," a crucial initiative at the center of the Obama administration's fight against climate change. (Watch full announcement below – at 7:55 into the video.)
Amongst other policies, the Clean Power Plan establishes the first-ever national standards to limit carbon pollution from power plants. Obama and the EPA had already set limits that protect public health by reducing soot and other toxic emissions, but until now, existing power plants, the largest source of carbon emissions in the United States, could release as much carbon pollution as they wanted.
Now, the final Clean Power Plan sets a framework for standards that aim to reduce carbon dioxide emissions by 32 percent from 2005 levels by 2030 and enable states to develop tailored implementation plans to meet those goals.
Other objectives Obama shared as part of the Clean Power Plan announcement at the White House today include:
Provide public health benefits with policies that will create a cleaner energy sector, reduce premature deaths from power plant emissions by nearly 90 percent in 2030 compared to 2005, and decrease the pollutants that contribute to the soot and smog and can lead to more asthma attacks in kids by more than 70 percent. The Clean Power Plan will also avoid up to 3,600 premature deaths, lead to 90,000 fewer asthma attacks in children, and prevent 300,000 missed work and school days.
Create tens of thousands of jobs while ensuring grid reliability.
Drive more aggressive investment in clean energy technologies resulting in 30 percent more renewable energy generation in 2030 and continuing to lower the costs of renewable energy.
Want more positive news? Sign up for our Weekly Newsletter right HERE. 
Save the average American family nearly $85 on their annual energy bill in 2030, reducing enough energy to power 30 million homes, and save consumers a total of $155 billion from 2020-2030.
Give a head start to wind and solar deployment and prioritize the deployment of energy efficiency improvements in low-income communities that need it most early in the program through a Clean Energy Incentive Program; and
Continue American leadership on climate change by keeping the country on track to meet the economy-wide emissions targets the EPA has set, including the goal of reducing emissions to 17 percent below 2005 levels by 2020 and to 26-28 percent below 2005 levels by 2025.
The final Clean Power Plan takes into account the unprecedented input EPA received through extensive outreach, including 4 million comments that were submitted to the agency during the public comment period. It also builds on the success of the "Clean Air Act," which became law more than 45 years ago with bipartisan support and resulted in an estimated 70 percent air pollution decrease since 1970, while the U.S. economy has tripled in size since then.
To learn more about today's announcement, head over to the White House page right here or check out the EPA's dedicated Clean Power Plan page here.
—————————————————————————————————————————————————