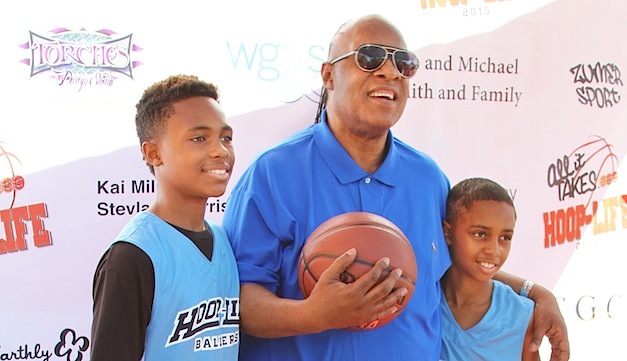 On Sunday, celebrity artists and athletes including Stevie Wonder, Travis Barker, Cedric Ceballos, Dale Godboldo, Thomas Byron, Angela Bassett, and NFL Network's Erin Coscarelli (see slideshow below) gathered at the USC Galen Center in Downtown Los Angeles to support the 3rd Annual Hoop-Life Youth Basketball Tournament, a fundraiser for AllItTages.org.
This "is my son's commitment to use what he enjoys doing – playing basketball – to raise money that will help a foundation that is about getting children to a place of being motivated to have more love and respect for each other, doing away with negativity like bullying, and encouraging kids to do great things with their lives," Stevie Wonder told Luminary Daily.
Four teams of 12-15 year old players – All It Takes, Froggs All-Stars, the Watchmen, and the Sole Brothers – three community based and Kailand's team, played in the tournament.
"All of you who have been here last year, we thank you so much. As you can see we are growing every year," said Kailand's mother, Kai Milla (pictured with Lori Woodley below, left), to welcome the audience. "To those who are new, we thank you for coming out to support Kailand, Hoop-Life, and All It Takes. We are proud to be connected with this amazing group of people."
Want more positive news? Sign up for our Weekly Newsletter right HERE. 
The "All It Takes" Mission
Keeping the leaders of tomorrow and their influence in mind, the All It Takes leadership program is focused on inviting middle schools to select students who show signs of leadership skills and charisma within their individual 'lunch table' groups to attend a three-day Youth Leadership Camp in Malibu.
There, the organization helps students learn to recognize and embrace their individual strengths and weaknesses, build social tolerance, and get a better understanding of the profound impact their actions have on the world around them.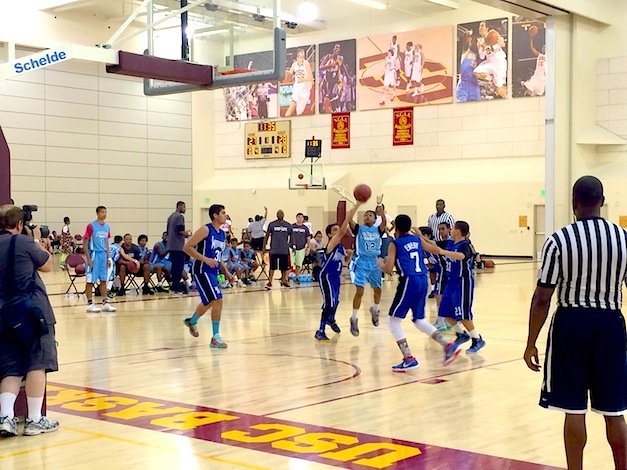 "I think something like this helps to make it OK to be different, it's actually awesome to be different. I love this cause because it's going to help bring a lot of awareness to kids who need it," Erin Coscarelli said in an interview.
The Hoop-Life Event
DJ Prophet kept a celebratory mood going throughout the event, while gourmet food enticed hungry attendees, a fun photo booth brought laughs and memories all while the sale of All It Takes t-shirts, raffle tickets and other donations supported the effort to get more kids to future Youth Leadership Camps.
Want more positive news? Sign up for our Weekly Newsletter right HERE. 
Lori Woodley (pictured below, right), who together with her daughter Shailene Woodley ("Divergent," "The Fault in Our Stars") founded All It Takes, then took the stage to thank Stevie, Kai Milla and Kailand as well as Marilyn Booker from Morgan Stanley Wealth Management, a recurring donor.
Said Woodley, "The greatest gift we can give to our kids is to teach them how to be philanthropic and how to love the world. That's what we do at camp, and that's what Stevie and Kai have done as a family…, so thank you so much for choosing All It Takes."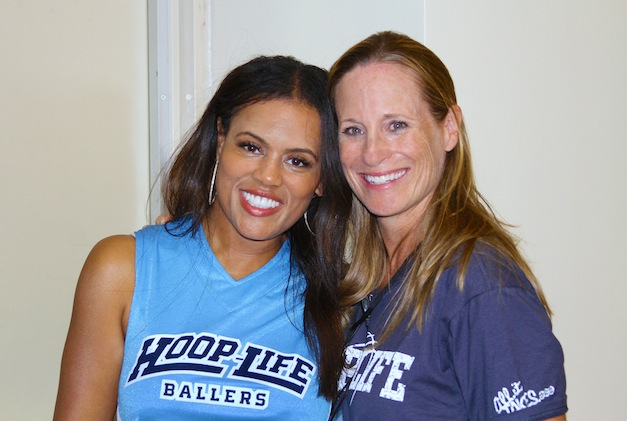 Interview With Stevie Wonder
In an exclusive interview with Luminary Daily, Stevie Wonder talked about Hoop-Life, the next generation, and the importance of positivity in our lives: 
The event "is exciting to me because – even though a different a thing, I have a love for music… and use the gift that I was given for the same reason – it inspires and encourages people to be in a better place," Wonder stated.
Responding to the question what he would advice teenagers who want to follow their own dreams, but might be afraid to do so because of bullies, Wonder said that, "They have to know and believe in something that is far bigger than them… believe in the spirit of life and know nothing is greater than that. There is no one who can take away what was given to them."
Talking about the importance of positivity in our world, Wonder noted that, "It's a great symbol. I believe that at this point in societies, not only here, but all over, the focus is too much on negativity. How are you going to expect for your children – the next generation… and even this generation – to grow when all you can give them is negativity? It's a choice that we have to make. You've got to turn it into having love and respect in your heart. So I applaud your magazine and I applaud you as a writer and I applaud all the other writers."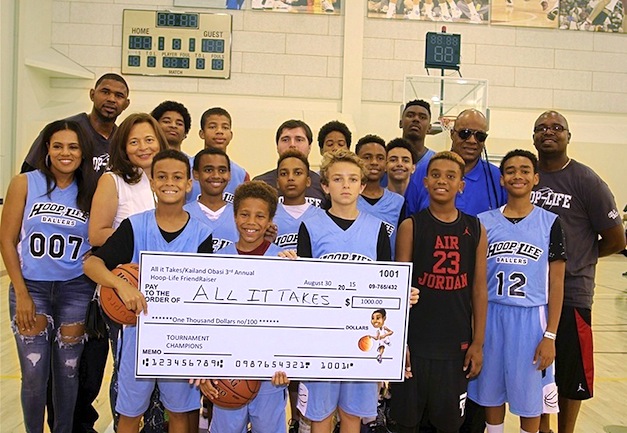 Playoffs and Trophies
Before heading into the playoffs – Soul Brothers vs. All It Takes – Kailand's younger brother, Mandla, took the microphone to thank the audience "for coming out and supporting my brother, I really appreciate it. I also really appreciate how each and every person (on the teams) gets to compete with my brother… that's really interesting, because I whip his butt in basketball all the time."
Kailand took the little jab at him with a polite head shake and a smile; and he had all reason to smile because his All It Takes team (pictured above) later emerged as the winner of the tournament.
Want more positive news? Sign up for our Weekly Newsletter right HERE. 
After announcing the raffle winners who received prizes like a New York Knicks jersey signed by Carmelo Anthony as well as tickets to USC vs. Idaho in September, all of the young athletes who participated were given gift bags, and the winning All it Takes team each received a trophy. Kai Milla followed by handing out six special gifts to well deserved players, in categories including "Highest Scorer," "Best Crossover," and "Best Sportsmanship."  Finally, each of the three runner up teams took home $500 to support their team and the winning team took home $1000, all sponsored by Morgan Stanley.
Wrapping Up and Moving Forward
Concluding the event, All It Takes board members Kevin McConnell and Cortney Montgomery stated, "Just think of how much better off you'd be as an adult if you could have recognized when you were a kid, that instead of the differences you could have seen the similarities (between you and others)." And as a result, "You don't have to like everybody, but you can at least be kind to everybody."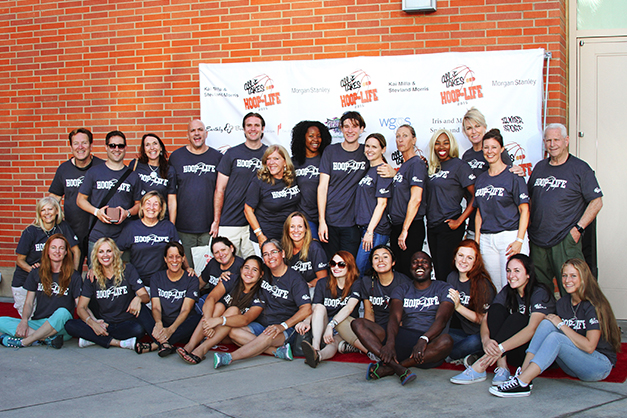 Said McConnell, "What if you can learn that as a ten, eleven, twelve-year-old and then live that all through high school, all through college, and then into your professional career? You would be light-years ahead of most of your peers."
"I'm exhilarated and excited. People had a great time, people ate well, and people laughed a lot – that's what it was all about. I think we made some pretty good money and will be able to send more kids to camp, and that's a beautiful thing," Woodley added.
Next Steps for "All It Takes"
While currently focused on Ventura and Los Angeles County, All It Takes is now planning to expand statewide and then go nationwide. We here Luminary Daily will be sure to keep you in the loop and hope you decide to support the cause at AllItTakes.org.
—————————————————————————————————————————————————