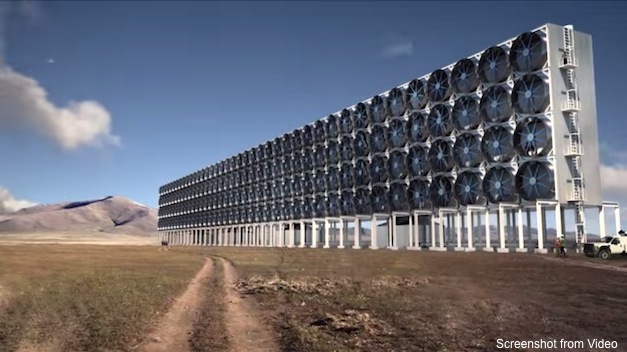 CO2 emissions have long been associated with the expansion of global warming and climate change. Now, several startup companies are facing the problem head on with a new technology that pulls CO2 directly from the air and turns it into a sellable product.
Carbon Dioxide – despite more and more attempts to reduce the same – is still an unavoidable byproduct of 21st century life. In addition to being a naturally occurring chemical compound, CO2 is also a result of the burning of fossil fuels, and almost every other major human activity. And while CO2 has always been present in the atmosphere, many scientists and the EPA have come to link it with the increase of global warming.
The issue has grown so bad it has lead many to believe that humanity is passing the point of no return. But, while rhetoric has gotten near feverish, a certain branch of scientific study is holding out hope for "geoengineering,"or climate engineering, which is the comprehensive intervention in climate change.
Want more positive news? Sign up for our Weekly Newsletter right HERE. 
A Canadian company, Carbon Engineering, is leading the way. David Keith, a professor at the University of Calgary who has long been interested in climate change, incorporated Carbon Engineering in 2009. Funding for the project came from the Bill And Melinda Gates Foundation — a foundation with a long reputation of providing funds for climate change research. Now, six years on, Carbon Engineering has built the first large-scale carbon-capturing prototype in Squamish, British Columbia, Canada.
(The video below details the company's future hopes, not the current prototype.)
The carbon-capture prototype was designed to do several things in addition to capturing some carbon. First, Carbon Engineering hopes to show the viability of the process as a whole in order to inspire other companies to follow in their footsteps. Second, it aims to determine what the process will actually cost — estimates range from between $50 per ton and $600.
Even if Carbon Engineering does create the carbon-capture wall depicted in the video, it would only be the first small step in cleaning up the environment. In order to make carbon-capture marketable globally — the only way to make the process truly efficient — companies like Carbon Engineering are hoping to demonstrate that there is a potential for huge profits from the operation.
Want more positive news? Sign up for our Weekly Newsletter right HERE. 
Currently, CO2 is a valuable commodity used in many things including the potential creation of fuel. Using CO2 captured from the atmosphere to make fuel, for example, would be a great leap in helping to close the carbon cycle.
For the dedicated work towards altering the affects of global warming, for their vivid innovation, and for taking on the leadership role in today's battle against climate change, we are proud to announce Carbon Engineering our Luminaries of the Week.
—————————————————————————————————————————————————