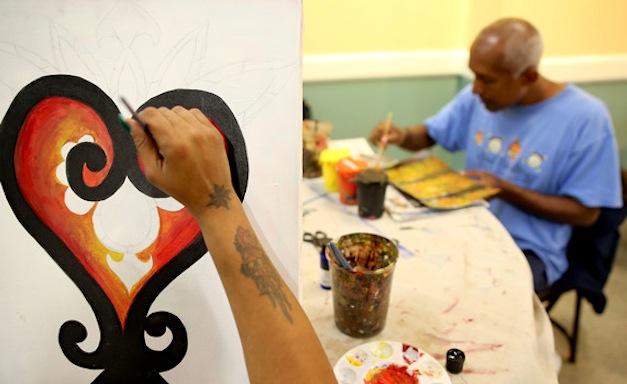 A new online venture is helping homeless artists sell their work and turn their lives around one painting at a time.
Co-founded by Liz Powers (pictured below) in 2013, ArtLifting's mission is to help homeless and disenfranchised artists around the country get back on their feet through creativity. And after a few years of operation, the company has managed to make a dramatic impact, reshaping the lives of dozens of artists.
Want more positive news? Sign up for our newsletter right HERE.
ArtLifting is the result of Powers' many years working with the homeless population of Boston. While at Harvard and eager to make a positive impact, Powers began working at a shelter. After that, she began working with the national nonprofit, LIFT. Her experience with LIFT lead her to creating art programs at shelters throughout the city.
"A lot of our clients said to me, 'Liz, I'm incredibly lonely,' " she told the New York Times earlier this year.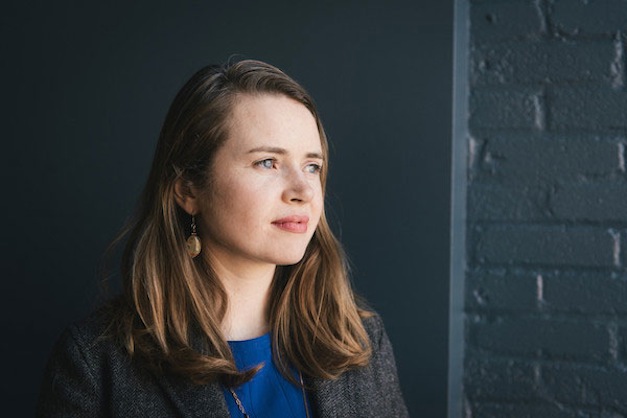 What she realized, though, was that there were plenty of people already making art. What they needed was something to do with it. With some help from her brother, Spencer, and $4,000 of their own money, ArtLifting was born.
Since then the company has begun working with over 120 artists from 19 cities around the country. On its website, where the art is sold, there are over 1,300 pieces to choose from. Each piece can be purchased as a print, a phone case, and a tote bag. The artists receive 55 percent of every purchase.
Want more positive news? Sign up for our newsletter right HERE.
So far, ArtLifting has helped at least five artists find housing and Powers is expecting many more to follow in their footsteps.
"I firmly believe that everyone can contribute to the economy in a positive way," Powers told The Huffington Post. "The whole concept of job-lifting, of creating more jobs to include more people and have that domino effect of hope."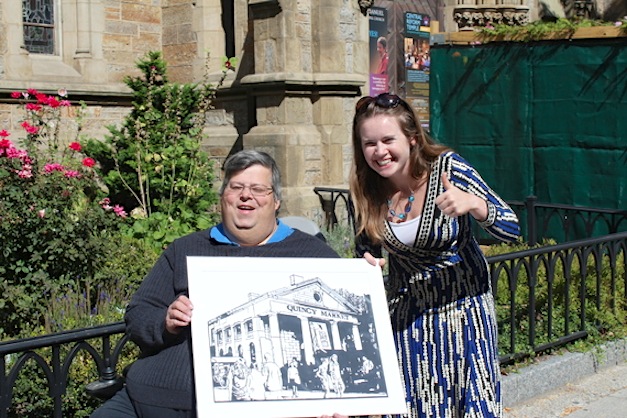 One artist who Powers was able to help was Scott Benner. After losing his job and suffering through the dissolution of his marriage, Brenner spiraled into homelessness and wound up living at a shelter. One of the few things he had left was his pen and ink drawings.
When Powers met Benner, she convinced him to trust her with most of his life's work, which she was able to put on display at a local art gallery. It was a turning point for Benner.
"From that point on I really felt like I had a light at the end of the tunnel with my whole homeless situation," Benner told Boston Magazine. "I was part of something good and it was going on, and I realized that I had some earning potential with my artwork."
Want more positive news? Sign up for our newsletter right HERE.
"After the last decade of working with homeless individuals, I've heard over and over, 'Liz, I don't want another handout. I don't want someone to hand me another sandwich," Powers told the magazine. "I just want opportunity. I want an ability to change my own life.' And that's really gotten to me."
For their desire to use art as a means to create a sustainable future for vulnerable artists, and for their innovative approach to building community and empowering those in need, we are proud to name Liz and Spencer Powers and ArtLifting our Luminaries of the week.
For more information about ArtLifting, and to see the available art, go here.
—————————————————————————————————————————————————
Images Courtesy of ArtLifting