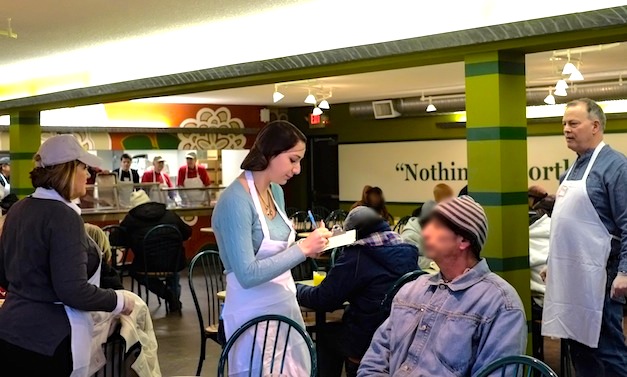 Earlier this month, the Kansas City Community Kitchen (KCCK) in Kansas City redesigned their establishment into more of a restaurant, and less of a traditional soup kitchen with lines, plastic trays, and dim lighting.
The community kitchen, which is just one of 22 soup kitchens run by Episcopal Community Services (ECS) in the area, has been serving hot and nutritious meals to the homeless with no questions asked for more than 30 years. As their mission statement explains, they "believe that the table is an automatic equalizer — all of us need to eat and we all deserve food that nourishes our bodies."
The kitchen's new focus is "dining with dignity" and is demonstrated by restaurant-style service for lunch every weekday. Instead of directly being shown to a line and a plastic tray, diners are met at the entrance by a greeter who seats them at a table. A server tells them about the day's menu and asks what they would like to eat and drink.
Want more positive news? Sign up for our newsletter right HERE. 
One diner named Brian was pleasantly shocked with his experience at KCCK, as a friendly server asked about his day and brought him a glass plate of poached catfish, golden rice, sautéed carrots and fresh fruit. He told the Kansas City Star, "It's different. They're treating me good, like they don't know I'm homeless."
"We are trying to flip the photo of what a soup kitchen looks like," Mandy Caruso-Yahne, director of community engagement at Episcopal Community Services, told Upworthy.
In a press release, ECS President and CEO Beau Heyen explained, "This new service represents what we're about now. Our diners will not only get delicious, beautiful meals created by our amazing culinary team, but they will have the dignity of being able to choose what they want to eat."
Executive chef Michael Curry, owner of the Kansas City restaurant Li'l Bubba, himself once lived in poverty and ate in soup kitchens. Now he is in charge of creating the menu for KCCK.
"Last week we had guests asking us when we were going to do some barbecue," he said in the press release. "So when we prepared our chicken a couple of days later, we decided to make it into pulled chicken sandwiches with our house-made sauce that doesn't have as much sugar and salt."
A healthier menu means less sodium, which helps to reduce the risk of diabetes and hypertension, which helps make it that clients aren't going to the hospital without insurance, Heyen explained.
Heyen added that the kitchen is not only designed to offer dignity, nourishment, and education, but it's also about community.
"Food is a basic human right," Heyen said. "This is about community. We want police officers and firefighters to come in and eat with our clients. I worked in soup kitchens in New York where there's 8 million people. Here, a place like this can make a difference."
Want more positive news? Sign up for our newsletter right HERE. 
But dignified dining is not all that the establishment offers. ECS recently expanded their Culinary Cornerstones Training Program. Formerly a 12-week program, the new certification is 6 months long and includes classroom and kitchen hours. The program teaches everything from cooking skills to finances and includes an internship and apprenticeship.
As students work through the program, they are able to cook in the kitchen and provide feedback and ideas for the menu and the dishes they prepare. The knowledge they learn helps them continue on a path in the food industry.
"We want to be the place that Kansas City restaurants call when they need good help in their kitchens," Curry said. "Everyone has a right to be nourished and sustained, and we'll do that with both food and learning."
For their dedication to serving the underprivileged, for their commitment to lessening hunger, and for their devotion to increasing the dignity of everyone, we are happy to name everyone at Kansas City Community Kitchen and Episcopal Community Services our Luminaries of the Week.
—————————————————————————————————————————————————