PulsePoint, a new app from Medic One Foundation, aims to make bystanders into first responders when a person is in need of CPR.
When cardiac arrest occurs outside of a hospital, it's often fatal. The Sudden Cardiac Arrest Foundation reports that of the 326,000 nationally who suffer from cardiac arrest outside of a hospital every year, just ten percent survive. But chances of survival increase dramatically for "bystander witnessed" instances, when a victim can receive immediate aid, such as treatment by a defibrillator or CPR.
Want more positive news? Sign up for our newsletter right HERE. 
This is where PulsePoint comes in. The app, which was first developed in 2009 by ex-fire chief Richard Price, works in conjunction with local fire stations to help get volunteer first responders on the scene as soon as possible. When an instance of cardiac arrest is reported to 911, PulsePoint sends out a message to volunteers nearby who can respond.
PulsePoint, of course, is no replacement for the fire department or EMTs. Instead, the service just looks to help get the immediate aide to a victim necessary to increase their chances of survival.
The idea for PulsePoint came to Price when one such instance occurred before him. Once, while off duty in San Ramon, California, Price watched his own fire crew arrive at the scene of a cardiac arrest at the restaurant next door.
He explained to the Seattle Times, "I didn't have a radio with me, but I had a phone. I could have been alerted if I were nearby."
Want more positive news? Sign up for our newsletter right HERE. 
And, since the launch of the PulsePoint network in 2009, the app has been doing just that. In 2014 in Spokane, Washington, mechanic and volunteer firefighter Jeff Olson received a notification from PulsePoint on his phone.
"It sounded like an Amber Alert, you know how they come out, and so I looked at it and it said CPR needed and it gave the address," Olson explained to the local ABC affiliate KXLY.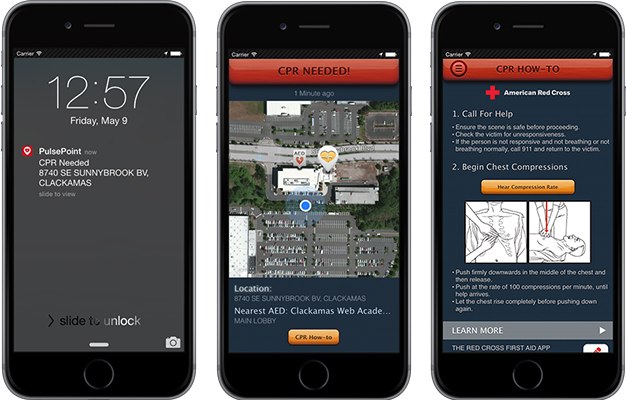 Just two blocks away, Olsen raced to the scene where an eight-month old infant was choking. Once there, he was able to save the infants life before paramedics were able to arrive a few minutes later.
It was the first recorded save of PulsePoint in Spokane, though Price explained to the Times that it's difficult to track them, noting that app users are only asked to complete a short survey after every response.
Spokane Assistant Fire Chief Brian Schaeffer explained to KXLY, "The real reason we are so invested in this technology is that you can be a lifesaver. This is one of the only apps that you can download if you know CPR, you can actually save somebody's life."
Want more positive news? Sign up for our newsletter right HERE. 
Currently, PulsePoint is expanding in Seattle, Washington, a city where the average survival rate for cardiac arrest is already well above the national average. The ideal scenario, Medic One Medical Director, Dr. Michael Sayre, explained to the Times, was to get 15,000 app users in the city.
Those users would join the nearly 750,000 volunteers in 26 states and Canada who have downloaded and been using the app.
For their ingenuity in building life saving platforms and for their drive to create a safer world we are proud to name Richard Price, all those at the Medic One Foundation, and all the citizen responders of PulsePoint our Luminaries of the Week.
For more information about PulsePoint, go here.
—————————————————————————————————————————————————