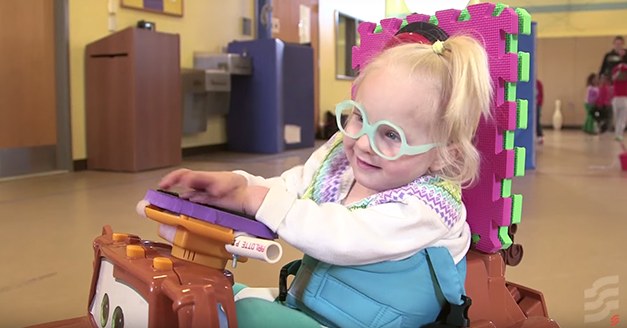 Go Baby Go, an enterprising company aiming to help mobility-disabled children explore their world, was founded by Cole Galloway, a professor of physical therapy at the University of Delaware. While the company's mission is simple — help provide mobility support to the young kids who need it most — their method of achieving that mission is a little more innovative: customized Power Wheels.
Galloway came to building these cars almost by chance. His area of research is focused around when young children learn to move, particularly children who struggle to do so, like those with cerebral palsy or Down syndrome.
Want more positive news? Sign up for our newsletter right HERE. 
In 2007, at the university, he met another professor, Sunil Agrawal who specialized in engineering, and the pair put their heads together. The first devices they built were more like robots and each cost tens of thousands of dollars and weighed well over a hundred pounds. So, while they were technologically advanced, they weren't ideal for the parents and children who needed them most.
Galloway's epiphany came, of all places, in a Toys 'R' Us, when looking at the Power Wheels, he realized that he could modify them himself to fit the needs of children. It was a low cost solution that gave him Galloway the freedom to design cars so that they could help support growth and movement, in addition to allowing physical exploration and lots of fun.
Part of what makes Galloway's work and Go Baby Go so important, is that often times, physically challenged children aren't customarily allowed to use a wheelchair until they are three. Galloway thinks this hinders a lot of development. His cars on the other hand allow kids to be mobile at the most crucial stages of growth.
Now Galloway's work is taking on a life of it's own. While he keeps building cars for kids — he's made over a hundred — Go Baby Go is popping up in different states. Just last month in New Hampshire, Tobi Sheiker, who's child Berkley had previously received a Go Baby Go car, kicked off the lasted bit of fund raising and car building.
With the help of mechanical engineering students from NHTI in Concord, NH, Sheirker and over 40 volunteers customized six cars for kids on the Go Baby Go waiting list. And, in addition to being a great cause, it was a true learning experience for the students.
Want more positive news? Sign up for our newsletter right HERE. 
"It mimicked what really takes place in an engineering design process," Will Renauld, an instructor in the Advanced Studies Program, said. "It's probably one of the most touching experiences I've had. We'd love to do it every year."
And hopefully they can, because there are still certainly many more children who would love to be mobile.
For their innovation, for their hard work, and for their desire to help bring unique help and treatment to the children who need it most, we are happy to name Cole Galloway, Tobi Sheiker, and everybody at Go Baby Go our Luminaries of the week.
For more information about Go Baby Go, visit their website here.
—————————————————————————————————————————————————