You might remember the Ice Bucket Challenge – the Internet sensation where people dumped buckets of frigid water over their heads last summer – and wonder, "What ever happened to all the donated money?"
We have good news. One year later, the money and awareness raised are making a real impact in the world of ALS.
ALS—amyotrophic lateral sclerosis—is a rare progressive neurodegenerative disease that affects an estimated 30,000 people. Since ALS was brought to the public consciousness 76 years ago when baseball player Lou Gehrig (whom the disease is often named after) announced his illness and retired, little progress towards a cure has been made. Currently, scientists and researchers are still searching for the cause of ALS, only now they are doing so with support from the public.
Want more positive news? Sign up for our Weekly Newsletter right HERE. 
The Ice Bucket Challenge was designed to raise both money and awareness for ALS. Co-founded by former Boston College baseball player and ALS sufferer Pete Frates, the viral Internet campaign has reportedly raised somewhere between $100 and $220 million dollars worldwide, with money going to many different organizations.
For comparison, in 2013 only $2.5 million was raised for ALS, making the total sum raised in 2014 astronomical. For many scientists and researchers, this new money has helped jump start vital research. Additionally, much of the money has gone directly to hospitals where it has allowed patients, such as Audrey Fisher, to partake in patient trials, offering them new hope.
During a Reddit AMA—"Ask Me Anything"—Jonanthan Ling, a medical researcher at Johns Hopkins, proclaimed the importance of the Ice Bucket Challenge and offered some insight into the progress he and his team have made in the year since. "I feel there is a lot of hope and optimism now for real, meaningful therapies," he said.
For Ling in particular, the money has helped his team discover a protein that they believe can tell them a lot about ALS. In 97% of ALS cases they discovered that TDP-43, a binding protein in the nucleus of a cell, wasn't functioning properly. With this information, Ling hopes to get new therapies into clinical trials within the next three years.
Want more positive news? Sign up for our Weekly Newsletter right HERE. 
For Audrey Fisher, a patient at Massachusetts General Hospital, the money donated to the hospital for ALS has helped to give her and her family new hope. "The research gives you hope," Audrey's husband Bob Fisher told the Boston Herald. "If all these scientists have hope, then a regular person can hope, too."
"The best medicines come from a full understanding of a disease and without the financial stability to do high risk, high reward research, none of this would be possible!" Ling wrote during his AMA. Still, Ling admitted there is still a long fight ahead. "Of course, there is always more to be done so please consider donating to the ALS Association."
For their tireless work in fund- and awareness raising, for their genius idea of the "icy showers," and for providing hope in the battle against ALS, we are happy to name the ALS Association, the scientists and researchers searching for treatments and cures to ALS, and all of those who partook in the Ice Bucket Challenge, our Luminaries of the Week.
You can support the ALS Association here, or Jonathan Ling's work at Johns Hopkins here.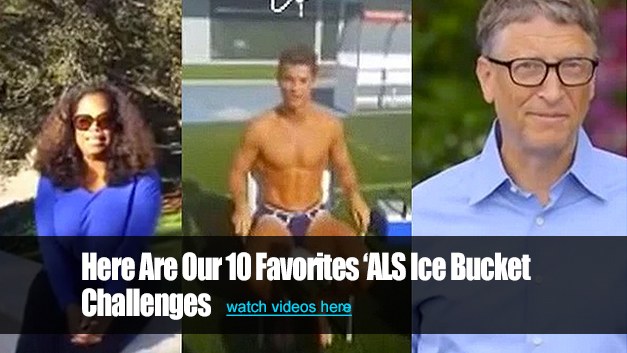 —————————————————————————————————————————————————