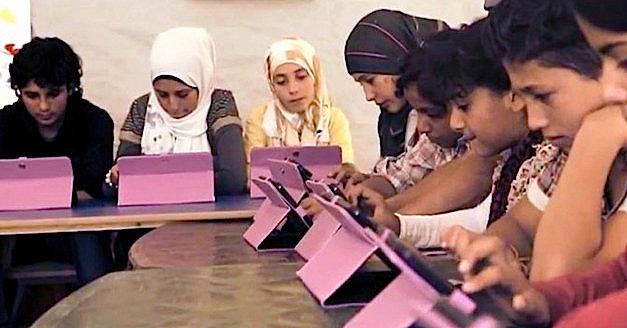 Taking cues on a Call To Action from the White House from back in June, several high profile technology companies have announced that they are chipping in to help with the international refugee crisis.
Facebook, Google, Microsoft and LinkedIn are among the corporations that are reaching out in various ways to make technology, as well as access to education and jobs available to those who are struggling with being displaced.
Want more positive news? Sign up for our newsletter right HERE.
The Obama administration recently published the list of private sector participants, including the names of the companies and organizations as well as what they are contributing to the cause.
Facebook has pledged to provide free Wifi Internet connections to 35 locations across Greece, and to continue to work with the United Nations to give Internet access to refugee camps. Mark Zuckerburg hopes that displaced people will connect and use Facebook as a communication tool.
Working with NGOs (Non-Governmental Organizations), Microsoft will set up resources for education and training in addition to an Innovation Hub, where refugees can learn useful and relevant technical and entrepreneurial skills.
Hewlett Packard is working on building Learning Studios for adults and children in Lebanon and Jordan. Offering job placement, and an initiative to assist refugees find employment. Both Uber and LinkedIn are doing their part to help displaced people adjust to their new homes with career training.
"The refugee community is full of untapped potential, but is challenged with growing those talents and skills due to a lack of access to technology and the digital world," explained Nate Hurst, HP Chief Sustainability and Social Impact Officer.
Want more positive news? Sign up for our newsletter right HERE.
Back in June, the U.S. State Department began working with Coursera to offer free online classes to refugees. Earlier this year, Google donated $5.3 million worth of Chromebooks to European refugees, and now they plan to distribute funding and offer technical expertise for NGOs that are giving free education to 10,000 children in Lebanon.
The White House's Call To Action said in part that, "The despair that drives these people to flee their homes is heartbreaking, but their resilience is awe-inspiring. Refugees are a valuable, untapped resource and, if given the opportunity, can thrive and contribute wherever they reside."
To see a full list of companies and organizations as well as what each individually is contributing to help ease the refugee crisis, head over to the official White House page right here.
—————————————————————————————————————————————————
Image Courtesy of Microsoft