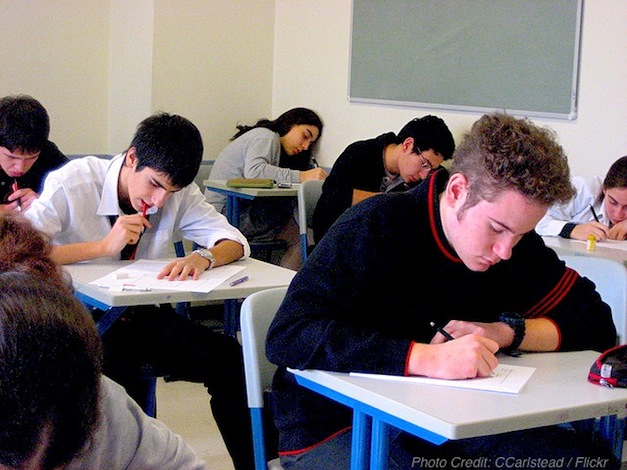 A 9th grade teacher in Canada has a yearly tradition that started in 1961 with his students: he tells them to write a 10-page letter to their future selves and promises to send it to them one day.
The student writes the letter, chooses a period of time (10, 20, or 25 years) to wait to get it back, turns it in, and then probably lets the letter's existence fall to the back of their mind. Until, that is, the day the letter is returned.
Even though Bruce Ferrer is now 73 years old and retired, he continues to keep this promise to students. He takes time tracking down each of his former students, and mailed out thousands of these letters over the years.
Last week DJ Anardi, now 36, received his letter that was written 20 years ago.
"Hey you good-looking guy, how is your life?" 15-year-old Anardi wrote to his older self. He continued the letter expressing his dream to play football when he grew up, and to have three or four kids. Now with two boys and a career in steel, Anardi did actually end up marrying a girl he knew from this period in his life.
"I was just feeling honored and grateful," another student named Scott Fulton said to CBC News about receiving his letter. "Amazed and inspired at the work of Mr. Farrer."
Inspired indeed – what an impactful thing for a teacher to do for so many students. The dedication that Mr. Farrer exhibited in keeping his promise to students is a truly luminary act.
"I think our society now is a society of non-commitment," said Farrer to the National Post. "We say we're going to do something, whether it's in a marriage, or with our kids or maybe even with our organizations we join, and some little thing ticks us off and we think 'Enough of that, I'm walking out.' … I think it's important to have a sense of commitment, and maybe in a minor way, the kids see I value that."
His commitment will most certainly inspire former students for generations to come and maybe even encourage other people in their lives to commit to something they believe in, something they want to achieve in life, or someone they love.