The U.S. State Department has teamed up with the online education provider Coursera to provide an opportunity for refugees around the world to take classes online for free.
As the migrant crisis continues to become an international burden, education and employment are two major issues that need to be addressed alongside food, clothes, and shelter.
Want more positive news? Sign up for our newsletter right HERE. 
To commemorate World Refugee Day, Coursera announced the launch of their "Coursera for Refugees" program on Monday, June 20. As part of the program, non-profit organizations that support refugees in any country, and individual refugees can apply for access to all of the online course catalog free of charge. Once accepted, they can sign up for any of the platform's classes and not have to pay for professional certificates. Students can also join local classes in facilitated course discussions.
That includes more than 1,000 live courses and hundreds of specialization courses, such as English for Business and Entrepreneurship. Nonprofits will also have access to organizational support services such as learner engagement data, private communication forums, and dedicated Coursera technical support.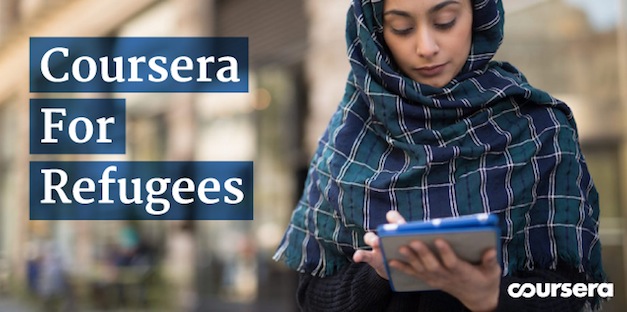 Lila Ibrahim, chief operations officer at Coursera, said in a statement, "Our mission is to transform lives by providing access to the world's best education. We know that one of the best ways to reach the people who need education opportunities the most is by working with organizations that understand the local needs."
Inaugural Coursera for Refugees partners include the U.S. Department of State, Samaschool, Libraries Without Borders, Blue Rose Compass, and Institute of International Education (IIE).
U.S. Embassies and Consulates will host in-person facilitated discussions for small cohorts of course participants, targeted specifically at communities with significant refugee populations. The first program will be hosted by the U.S. Embassy in Beirut, Lebanon and will focus on English language learning for a mixed group of refugees and local Lebanese students.
Want more positive news? Sign up for our newsletter right HERE. 
"We're excited to partner with these organizations including the State Department to provide refugees with comprehensive support as they take Coursera courses — at no cost — on anything from English to Python programming," Ibrahim added.
While the refugee crisis overall will require more assistance in addition to offering free online courses that may lead to jobs, it's a step in the right direction for refugees trying to make a better life for themselves and their families.
A 2015 joint study found that 72% of people who took massive open online courses saw benefits to their careers. Taber added that the program will launch in more countries during the months to come including Kenya, Jordan, and the Democratic Republic of the Congo.
Evan Ryan, the assistant secretary of state for educational and cultural affairs, said in a statement, "We really feel this public/private partnership is one of the many ways we can make a difference in the lives of real people by bringing educational opportunities to them."
—————————————————————————————————————————————————