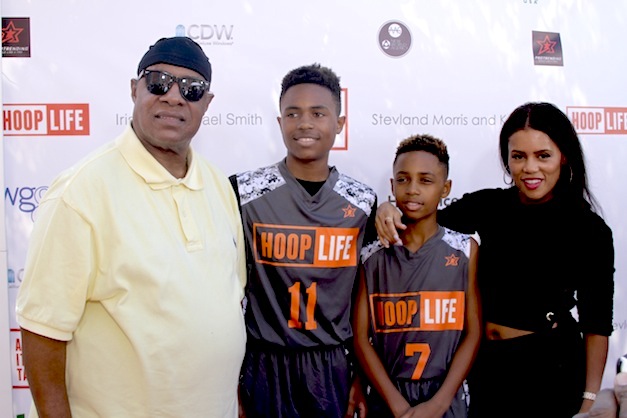 On Sunday, non-profit organization "All It Takes" (learn more about the mission at the end of this article) teamed up with Stevie Wonder and Kai Milla and son Kailand for the 4th annual Hoop–Life event to raise funds that will help serve thousands of kids this year in Los Angeles schools.
The idea for Hoop-Life came from Wonder's son, Kailand, and was encouraged and supported by Kailand's mother, Kai Milla. During the event, four teams consisting of junior high and high school students compete in a basketball tournament complete with a celebrity filled half time show.
Want more positive news? Sign up for our newsletter right HERE.
This year's red carpet was flooded with celebrities ranging from former NBA players to comedians and actors. Divergent star and All It Takes co-founder, Shailene Woodley, proclaimed, "It's up to us to use our voices… to demand the progress that we want to see in the world."
Luminary Daily asked her mother and All It Takes founder, Lori Woodley (pictured with Shailene below), what has been the biggest difference between last year's and this year's event and she proudly reported, "Last year we served about 1,300 kids. We're going into this school year committed to 6,000 kids. That's the biggest difference. We've grown tremendously."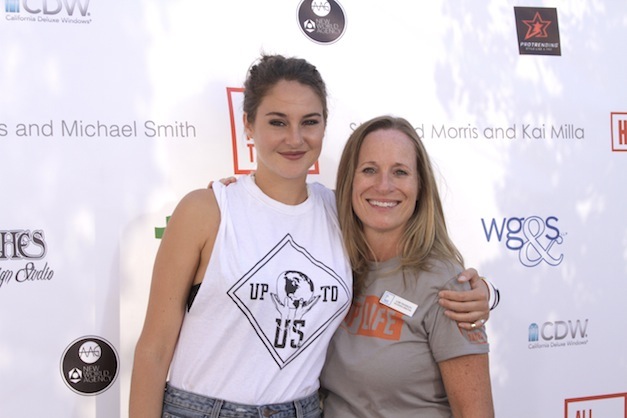 Kai Milla was also proud to announce, "We want to reach 6,000 kids and next year we're hoping to go into the bigger [basketball] arena. We are just growing every year and we thank everyone that comes out and supports us. We have just teamed up and this just keeps growing. This is all about fun right now, but in the end, the bottom line message is we're showing people how to give back — and that's really important. "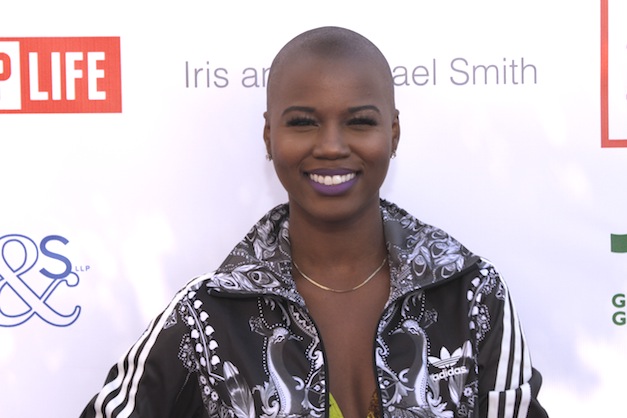 The energetic, upbeat half time show began with a soulful performance by V. Bozeman (pictured above) of TV's hit show, Empire, and was immediately followed by a fun free throw challenge between Stevie Wonder and star of ABC's hit show, Blackish, Anthony Anderson (pictured below).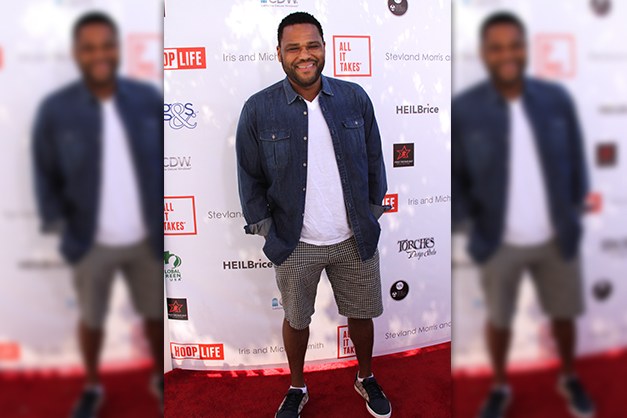 Anderson humorously explained, "He challenged me to a game of one on one. I don't think he'll ever know if I'm on the quart or not, but we're gonna see." To make things fair, Anderson donned a makeshift blindfold and allowed volunteers to spin him around several times before air-balling in the opposite direction of the hoop and into an anticipating crowd.
Both Shailene and Lori Woodley represented All It Takes during halftime by presenting an award to rock band R5 for their commitment to live the All It Takes mission by embodying acceptance and kindness in their music.
Want more positive news? Sign up for our newsletter right HERE.
Shailene addressed the audience saying, "All It Takes, my mom's charity, the reason why we're here, is about teaching empathy to young people. Empathy is a tool that a lot of people learn too late in life. A tool that not only allows us to recognize ourselves, but to recognize an experience in another and understand that even if you don't agree with all those around you, you can still find common ground and recognize we're all human beings on a journey…it's one thing to say that we want change and it's another thing to actively create that change."
Last year, Wonder shared with Luminary Daily, that this "is my son's commitment to use what he enjoys doing — playing basketball — to raise money that will help a foundation that is about getting children to a place of being motivated to have more love and respect for each other, doing away with negativity like bullying, and encouraging kids to do great things with their lives."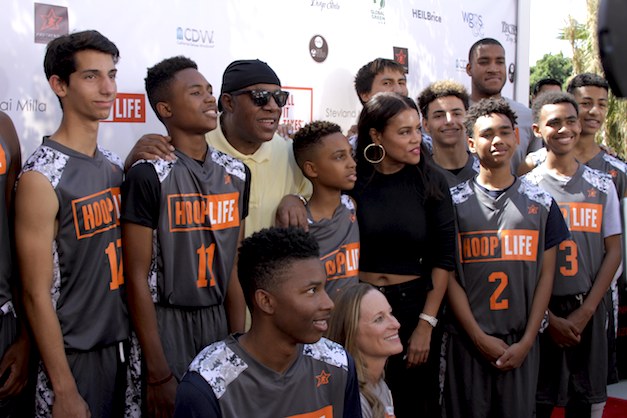 This year, he reiterated, "I'm excited because my son Kailand, who is about to celebrate his 15th birthday, has committed himself to giving back. He's committed himself to putting together an event to benefit the All It Takes foundation…it takes a village and we are a village."
After a colorful performance by internationally competitive dance team, Immabeast, which consists of local high school students (pictured below), the half time show was wrapped up with a special performance of "Happy Birthday" for the birthday boy, Kailand, by no other than his father, the incomparable Stevie Wonder.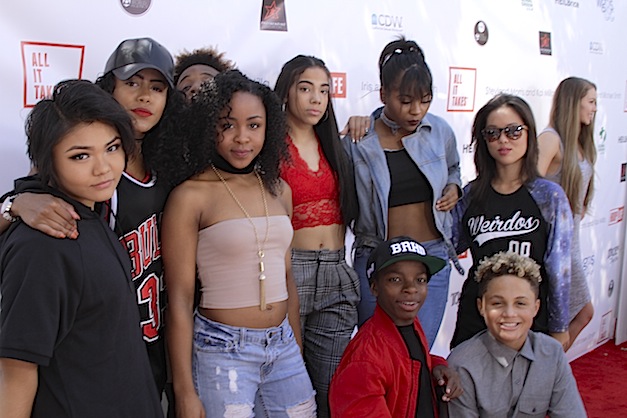 Since we are Luminary Daily and believe in the importance of positivity in the media, we asked Wonder if he, too, believed that positivity mattered. "It's a great symbol. I believe that at this point in societies, not only here, but all over, the focus is too much on negativity. How are you going to expect for your children – the next generation… and even this generation – to grow when all you can give them is negativity?" he told Luminary Daily last year, adding that, "It's a choice that we have to make. You've got to turn it into having love and respect in your heart. So I applaud your magazine and I applaud you as a writer and I applaud all the other writers."
Kai Milla confirmed the same notion this year, adding that, "[this] generation gravitates toward everything they see on media and it's really important to send a positive message. They're getting so much, so many different messages — to send a positive message is really important."
Want more positive news? Sign up for our newsletter right HERE.
Anderson later backed up Morris when stating, "We live in a world that is filled with so much negativity. I understand what needs to be reported and why it's reported, but events like this, things [that are] uplifting to the community or individuals is something that we always need and we should always have [in the media.]"
We wholeheartedly agree and Luminary Daily looks forward to continuing our support of All It Takes and their tireless effort to change the lives of the next generation in a way that will have a long lasting impact on all of us.
Check out Luminary Daily's coverage of last year's Hoop-Life event here.
—————————————————————————————————————————————————
About "All It Takes"
Keeping the leaders of tomorrow and their influence in mind, the All It Takes leadership program is focused on inviting middle schools to select students who show signs of leadership skills and charisma within their individual 'lunch table' groups to attend a three-day Youth Leadership Camp in Malibu.
There, the organization helps students learn to recognize and embrace their individual strengths and weaknesses, build social tolerance, and get a better understanding of the profound impact their actions have on the world around them.
—————————————————————————————————————————————————