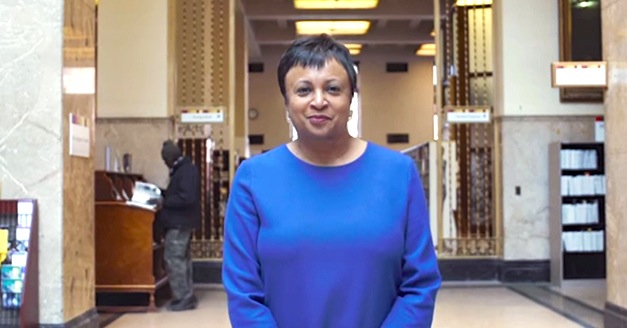 The United States Senate voted on Wednesday to approve the congressional nomination of Dr. Carla Hayden to be the Librarian of Congress in Washington, D.C.
The vote is a historic one for several reasons, most notably because Hayden is the first woman, and the first African-American to hold the position. She is also the first person to occupy a 10-year term, since the job used to be a lifetime position until a new law was passed by Congress last near.
Want more positive news? Sign up for our newsletter right HERE. 
The Library of Congress is the second largest library in the world after the British Library, with over 160 million items in their collection.
Hayden said in a statement Wednesday, "I look forward to working with the dedicated staff of the Library of Congress. I will be honored to build on the legacy and accomplishments of my predecessors in this position, to be part of a continuing movement to open the treasure chest that is the Library of Congress even further and to make it a place that can be found and used by anyone."
President Obama nominated Hayden back in February, and she was confirmed by the senate in Wednesday's 74-18 vote.
"Dr. Hayden has devoted her career to modernizing libraries so that everyone can participate in today's digital culture. She has the proven experience, dedication, and deep knowledge of our nation's libraries to serve our country well and that's why I look forward to working with her in the months ahead," Obama said about Hayden when he nominated her.
When Hayden takes over for James Billington, who resigned as Librarian of Congress in September after 28 years in the role, she will be the 14th Librarian of Congress in the 214 years since the country's largest library was established.
Want more positive news? Sign up for our newsletter right HERE. 
Prior to her nomination, Hayden was leader of Baltimore's Library systems, and held the title of CEO of Enoch Pratt Free Library in Baltimore, Maryland as well as being president of the for two years from 2003 to 2004.
Dr. Hayden was previously nominated by President Obama to be a member of the National Museum and Library Services Board in January 2010 and was confirmed by the Senate in June 2010. Prior to joining the Pratt Library, Dr. Hayden was Deputy Commissioner and Chief Librarian of the Chicago Public Library from 1991 to 1993.
"There is no doubt that Dr. Hayden will have a positive impact by leading efforts to establish a more modern approach to serving members of Congress, researchers and the public at large," said the president of the American Library Association, Julie Todaro, in a statement.
"Hayden holds a profound understanding of the integral role libraries play in formal education, community-based learning and the promotion of individual opportunity and community progress."
—————————————————————————————————————————————————