The largest addition of wind, solar, and hydropower sources has occured in countries across the world in 2015. More money was spent on these kind of renewable sources of energy than any previous year, making up more than double the amount spent on new coal and gas-powered energy plants, according to the Renewable Global Status Report.
Spending on green energy has been steadily increasing over the years, reaching a peak of $286 billion last year adding an estimated 147 gigawatts in generating capacity. Around 8.1 million people worldwide are working in the thriving renewable energy industry.
Want more positive news? Sign up for our newsletter right HERE. 
Countries including the US, China, Japan, the UK, and India had the biggest increase in green energy, as prices for development of renewable energy technology have fallen even though oil prices have also decreased.
China was responsible for over a third of the global total spent on green energy, but when the average spending was measured with the country's GDP, little countries like Jamaica, Honduras, Uruguay and Mauritania invested the most.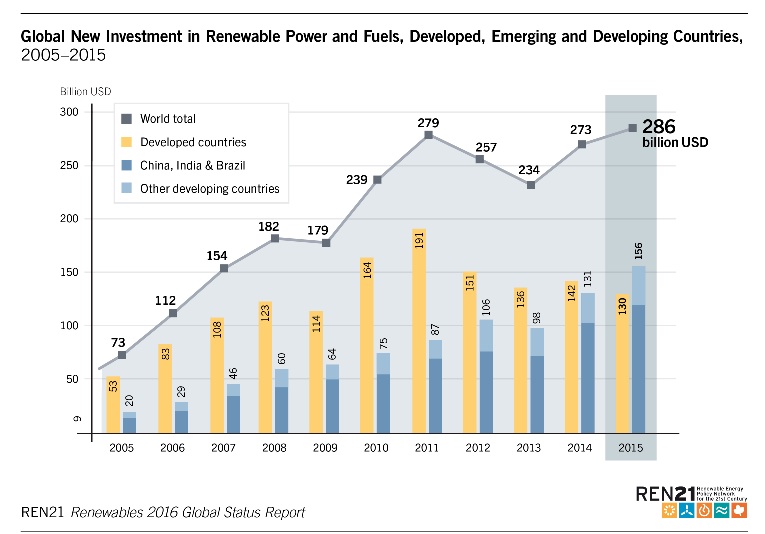 "What is truly remarkable about these results is that they were achieved at a time when fossil fuel prices were at historic lows, and renewables remained at a significant disadvantage in terms of government subsidies," Christine Lins, executive secretary of Renewable Energy NPO21, said in a statement.
Renewable energy is now the biggest source of electricity in the European Union, making up 44% of their power in 2015.
Want more positive news? Sign up for our newsletter right HERE. 
The corporate world is also taking a step towards cleaner sources of energy, with 154 companies in the US — with an average of 11 million employees — pledging to operate with 100% renewable energy.
Lins told the BBC, "The renewables industry is not just dependent on a couple of markets, but it has turned into a truly global one with markets everywhere and that is really encouraging. The best is yet to come."
—————————————————————————————————————————————————