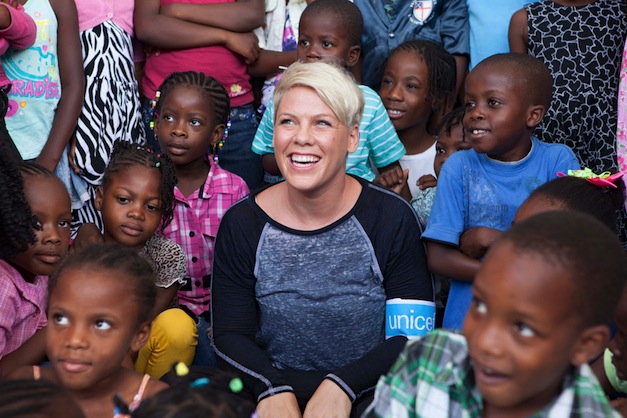 The United Nations Children's Fund (UNICEF) announced on Tuesday that it has appointed Grammy award-winning recording artist P!nk as the newest UNICEF Ambassador, and announced that she will build on her current role as the agency's "Kid Power National Spokesperson" to raise awareness about its lifesaving health and nutrition programs around the world.
"As a mom myself, it's devastating to know that children are suffering because they don't have adequate nutrition. All children should be able to grow up strong and healthy, with the opportunity to reach their full potential," P!nk said in a statement.
Want more positive news? Sign up for our newsletter right HERE. 
As a UNICEF Ambassador, P!nk plans to use her voice to encourage families across the U.S. to get active and save lives with UNICEF Kid Power. Her responsibilities will also include educating the public about UNICEF's global health and nutrition programs as well as highlighting UNICEF's role in fighting global malnutrition, which impacts 159 million children worldwide.
Says P!ink, "I want to use my platform to help end global malnutrition, which is why I'm so excited about UNICEF Kid Power – which gets kids and families involved in saving children's lives."
By getting active with the UNICEF Kid Power Band, kids go on missions to learn about new cultures and earn points. Points unlock funding from partners, parents and fans, and funds are used by UNICEF to deliver lifesaving packets of therapeutic food to severely malnourished children around the world. (Learn more about the program in the video above.)
P!nk recently joined UNICEF in Haiti to witness first-hand the transformative impact that therapeutic food can have on malnourished children, who can be successfully treated in their own communities, and see the progress that has been made for children since an earthquake devastated the country in 2010.
Applauding P!nk's commitment to putting children first, President and CEO of the United States Fund for UNICEF, Caryl M. Stern, stated that, "We are excited that she is shining a light on the critical issue of malnutrition – which affects 1 in 4 children around the world – while continuing to support UNICEF Kid Power, and encourage families across the country to be part of the solution."
—————————————————————————————————————————————————