1.6K Flares
1.6K Flares
×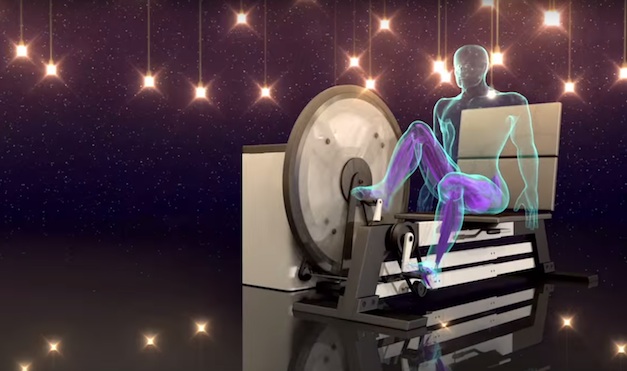 A new stationary bicycle, the "Free Electric," can reportedly create 24 hours worth of electricity for your home in an hour of cycling, and hopes to revolutionize access to electricity in developing areas.
For much of the developing world, consistent electricity is still a rarity. According to India West, nearly 400 million homes in India alone don't have reliable energy. Many of these same homes are also not food or water stable, the paper reported.
"Water, electricity and livelihood are the only things anyone should be working on," billionaire entrepreneur and philanthropist Manoj Bhargava told India West in a recent interview. "If we don't fix these problems everything else is irrelevant," he said.
Bhargava, who made his money with the caffeinated B vitamin drink 5-Hour ENERGY, which launched in 2004, has dedicated himself and upwards of 90 percent of his wealth to fighting these problems. Now, one of his first new ventures, the Free Electric, is set to make a change.
Check out the video below to see Bhargava and the Free Electric in action.
In 2011 Bhargava founded Stage 2 Innovations, a venture capital firm "established to accelerate the large-scale commercialization of innovation." The firm has four central points of investment: clean energy, pure water, advanced medical technology, and benefiting mankind. In addition, Stage 2 has a research lab in Farmington Hills, Michigan, where the Free Electric was developed.
The Free Electric, Bhargava claims, after an hour of peddling, can power small household items, such as lighting, some cooking devices, and cellphone batteries, things he believes are instrumental in combating global poverty. In addition to the fact that (after the bike's initial cost) the energy it produces will be free, the Free Electric's energy will also be completely clean and renewable. "The only side affect," he says in the documentary Billions In Change, "is that you get stronger and healthier."
Want more positive news? Sign up for our newsletter right HERE. 
Currently, according to Machine Design, 10,000 Free Electric bikes are ready to be distributed throughout India next year, with the expected cost to be around $100 each.
The Stage 2 team is also working on several other projects highlighted in Billions In Change. The Rain Project is a desalination device that will turn saltwater and wastewater into drinkable water. On top of fighting drought conditions in places like California, the device could help millions of people who have little access to clean, potable water. The team is in the process of creating a mass-producible model.
For his outstanding charitable contributions, his dedication to bettering the world, and for his continued philanthropy, we are happy to name Manoj Bhargava, Stage 2 Innovations, and the Free Electric our Luminaries of the Week.
To find out more about Stage 2, visit their website here. And watch the complete Billions In Change below.
—————————————————————————————————————————————————