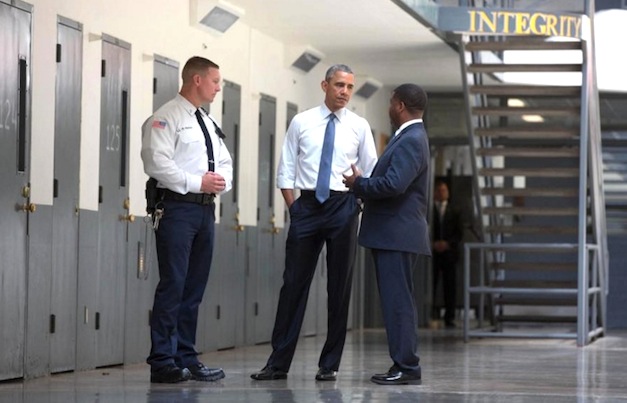 Executive orders issued by President Obama have put an end to solitary confinement for juvenile offenders and put further restrictions on how solitary confinement is used in prisons throughout America.
Today solitary confinement — or as it is often referred to, restrictive housing — is still a common means of punishment for inmates in federal prisons. And while it is less common for juvenile offenders to wind up in restrictive housing, it still occurs, despite the many known negative effects of the punishment.
Want more positive news? Sign up for our newsletter right HERE. 
In a Washington Post opinion piece published on Tuesday, the president cited the case of Kalief Browder, a 16-year-old boy who was accused of stealing a backpack in 2010 and arrested. After spending nearly two years in solitary confinement and never going to trial he was released in 2013. Browder killed himself less than a year later.
The new executive orders will prevent minors such as Browder from being placed in restrictive housing. Additionally, Obama has called for several other actions, such as, "banning solitary confinement… as a response to low-level infractions, expanding treatment for the mentally ill and increasing the amount of time inmates in solitary can spend outside of their cells."
The changes are expected to directly impact at least 10,000 prisoners out of the estimated 100,000 who are in solitary confinement.
The executive orders came after Obama asked the Justice Department to study solitary confinement last summer. 2015 also saw bipartisan support for prison reform in congress in the form of a new bill, "The Sentencing And Reform Corrections Act of 2015."
Want more positive news? Sign up for our newsletter right HERE. 
Reducing the use of solitary confinement has been proven successful. Obama cites two states, Colorado and New Mexico, that have cut the use of restrictive housing and seen assaults on staff decrease and higher participation in "promising rehabilitation programs." Similar results have been seen on the federal level since the use of solitary confinement was reduced by 25 percent.
So while the journey to curving America's painfully high recidivism rates (over 75 percent of released prisoners were rearrested after just five years according to one study), Obama's executive orders and pledge to bring about criminal-justice reform during his final year in office are two optimistic leaps towards revitalizing the country's rehabilitation programs.
—————————————————————————————————————————————————
Image Credit: The White House