Last week, Barack Obama started giving "previews" of his State of the Union address, announcing that he aims to roll out a plan that provides two years of community college for U.S. citizens for free.
This week, the White House released a video in which the President expresses his support for expanding high-speed broadband (Internet) service across the country.
Want more positive news? Sign up for our Weekly Newsletter right HERE. 
In the video, Obama demonstrates with a graphic on his tablet that major U.S. cities – and drivers of the U.S. economy – are falling behind competitive cities in other countries when it comes to Internet download speed.
"You've got Seoul, Hong Kong, Tokyo, Paris… These cities all have really fast access to the Internet because they've made the investments in broadband," Obama explains before pointing out that Cedar Falls in Ioawa, a city of only 40,000 people, has similar, high-speed Internet access (roughly double the speed you'll find in LA, NYC, and Washington D.C.).
"The reason they can compete with these other world cities is because citizens got together and made the investment to bring competition in and make sure that Internet speeds were just as fast there as anywhere in the world," he concludes.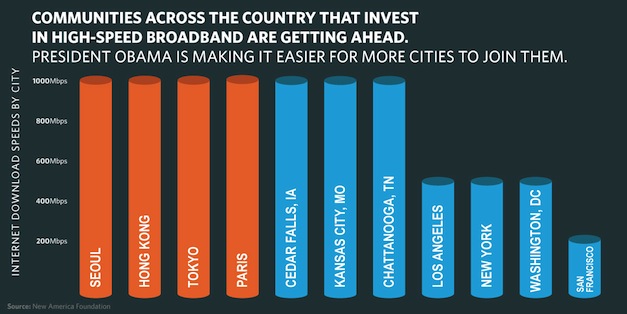 That's why, today, the President is scheduled for a trip to the city of Cedar Falls, where he will talk further about his plans to expand high-speed Internet access across the United States and urge the Federal Communications Commission (FCC) to end laws that hinder municipal broadband networks and market competition from flourishing.
Ever since last year's surprise announcement, in which Obama urged the FCC to keep the Internet open and free, it has become a main focus of his administration to advance high-speed Internet access in an effort to keep the U.S. internationally competitive and spark economic growth.
Want more positive news? Sign up for our Weekly Newsletter right HERE. 
"(Slow Internet) may mean money if you're trying to do a business deal, or you may loose a customer if they're not able to see you respond quickly… if you're a student and you're trying to study for an exam and you're supposed to download some information and it doesn't come, that's a problem… there are real world consequences to this and it makes us less economically competitive," Obama says in the video announcement.
Last year, FCC Chairman Tom Wheeler has shown early signs of support when, in a testimony to Congress, he stated, "If municipal governments want to pursue it, they shouldn't be inhibited by state laws."
Additional signs of supporting Obama's new policy emerged when the FCC voted in favor of increasing federal funds dedicated to giving schools and libraries across the U.S. access to high-speed Internet.