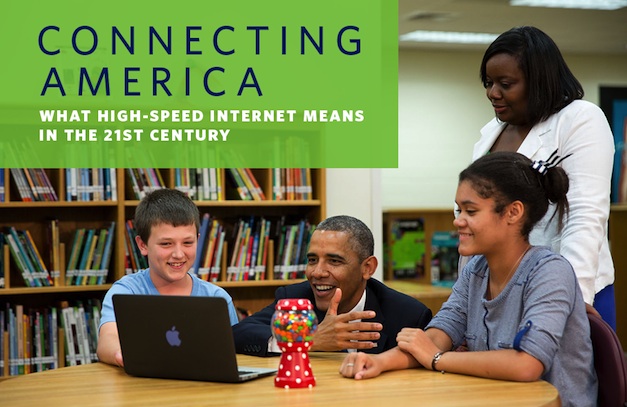 In June 2013, the Obama administration announced "ConnectED," an initiative that aims to get 99% of American students connected to next-generation broadband Internet by 2018.
"Students who don't have broadband Internet access at home… perform worse on standardized tests, and have difficulty applying for and securing jobs," the White House said in a statement, adding that, "As more schools use the Internet for interacting with students and customizing assignments, it's not fair to let those disparities handicap the students and schools that are already behind in many other ways."
According to the White House, more than 90 percent of households with a college-educated parent use the Internet – and fewer than 50 percent of households with less than a high-school education have Internet access.
Want more positive news? Sign up for our Weekly Newsletter right HERE. 
So today, President Barack Obama is traveling to Durant, Oklahoma, to announce a new initiative called "ConnectHome," which builds on the previous efforts of ConnectED and will focus on bringing together public and private sectors to provide free or low-cost Internet access to over 275,000 low-income households with school-age children across the country.
Initially, the pilot program will roll out in 27 cities and one tribal nation – the Choctaw Nation of Oklahoma, where 425 public housing residents will be eligible – and reach an estimated 200,000 children.
"America's challenge in this 21st century is to remain the world's undisputed land of opportunity. By expanding broadband adoption, ConnectHome will provide more Americans with the same high-speed access to knowledge and opportunity that millions of people already enjoy," said Julián Castro, Secretary of the U.S. Department of Housing and Urban Development (HUD).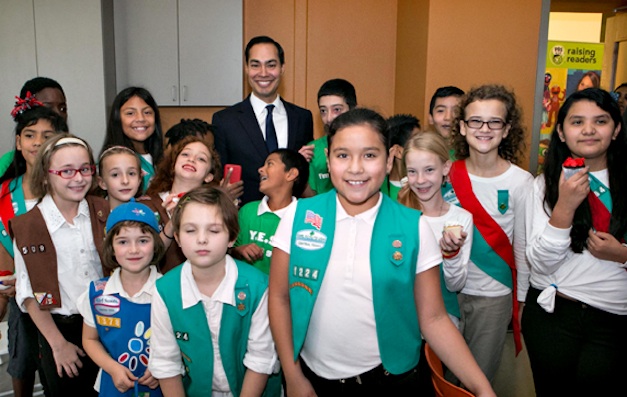 The program consists of the three key components:
1- Make broadband Internet more adoptable by building new models to provide broadband infrastructure and to offer residents free or discounted service.
2- Make broadband Internet more valuable by giving residents localized, free, and culturally sensitive training in essential digital literacy skills that will allow them to effectively utilize high-speed Internet.
3- Make broadband Internet adoption sustainable by providing devices and technical support to our residents and by refocusing existing HUD resources to supplement and sustain the work of ConnectHome.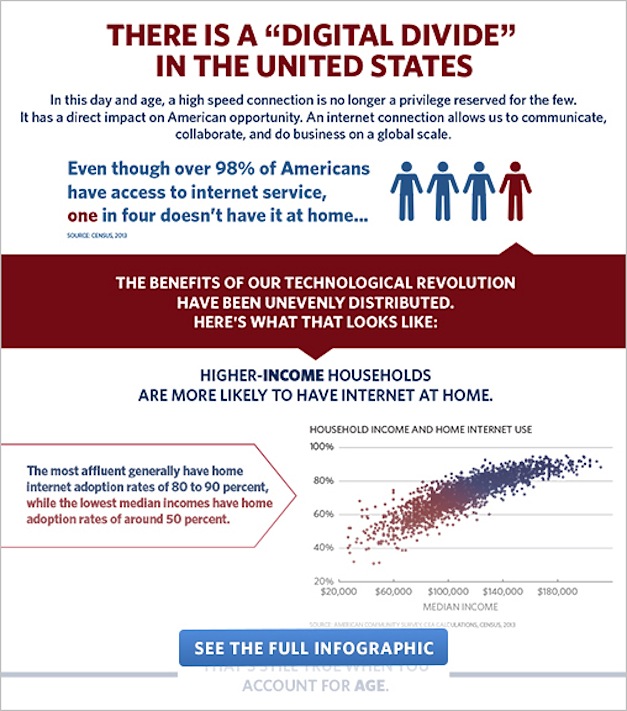 To deliver on the promise of free or reduced Internet access, the Obama administration established ConnectHome partnerships with the likes of Google, AT&T, Sprint, and Cox Communications helping to reduce prices to as low as $9.95 a month for high-speed Internet (compared to the U.S. median broadband price of $35 to $75 a month).
In Google Fiber markets (including the ConnectHome cities of Atlanta, Durham, Kansas City, and Nashville), Google Fiber will offer $0 monthly home Internet service to residents in select public housing authority properties.
Want more positive news? Sign up for our Weekly Newsletter right HERE. 
Companies and organizations like Best Buy, GitHub, Khan Academy, PBS, and the American Library Association are contributing to ConnectHome by making grants – as high as $250,000 – and providing free digital literacy classes, SAT practice resources, as well as personalized college readiness and planning training in their local communities.
The core motivator for ConnectHome, the U.S. Department of Housing and Urban Development stated, is that, "Every child should be given the same opportunity to build a brighter future and to achieve their dreams."
To learn more about the pilot program and which cities and companies are participating, head over to the official website right here.
—————————————————————————————————————————————————