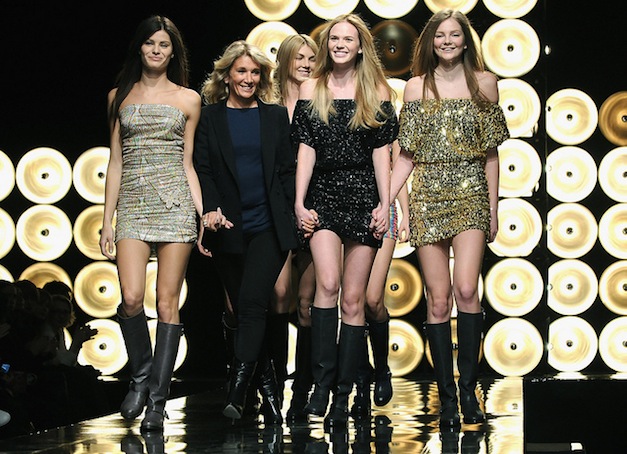 Today, France's National Assembly voted into law an amendment that sets new legal standards for the body mass index of models in the fashion industry, specifically those working on the runway.
"The activity of model is banned for any person whose Body Mass Index (BMI) is lower than levels proposed by health authorities and decreed by the ministers of health and labor," the new legislation says, according to Reuters.
Commenting on France's latest move to combat anorexia, Olivier Véran, a doctor who introduced the idea, told French TV channel BFM that this is "an amendment for protection, and it will call for severe penalties to agencies if they promote excessive thinness and put models in danger while they're under contract."
Want more positive news? Sign up for our Weekly Newsletter right HERE. 
What Exactly Are the New Rules?
Here is a brief overview over the guidelines that will go into effect as soon as France's Senate approves the amendment:
All models will have to obtain and present a medical certificate proving that they have a BMI of at least 18 (approximately 121 lb for a height of 5.7 feet) at the time of applying for a job as a runway model and for weeks afterwards. (The new BMI standard was determined by doctors who defined a healthy BMI as being between 18.5 and 24.5.)
Model agencies and other fashion companies that hire underweight models are exposing themselves to fines up to $82,460 (€75,000) as well as the potential of six months in prison.
Any website encouraging users to "seek excessive thinness by encouraging eating restrictions for a prolonged period of time, resulting in risk of mortality or damage to health" could be fined as much as $109,800 (€100,000) and face up to one year in prison.
Re-touched (aka 'photoshopped') images, which have altered the model and his or her bodily appearance for commercial purposes, will now have to display a disclaimer that informs the viewer about the digital manipulation of the photo.
Want more positive news? Sign up for our Weekly Newsletter right HERE. 
The Fight Against Anorexia
In 2007, Spain implemented regulations that established 18.5 as the country's new BMI standard for fashion models and Italy made health certificates as well as the age of 16 or older a new requirement for runway models.
Israel then followed suit in 2013, when the country passed a law banning models with a BMI below 18.5 from runways, photo shoots, and advertising campaigns and made disclaimer notices on photoshopped images mandatory.
Paris, next to New York City, is arguably one of the most influential fashion capitals of the world. The country's BMI legislation has the potential to set an new industry-wide trend and inspire other country's around the world to apply the same set of standards in an effort to outlaw anorexia and promote a more healthy body image for both men and women.
—————————————————————————————————————————————————
CC License 2.0 via Flickr
"Paul and Joe Finale" by fervent-adepte-de-la-mode