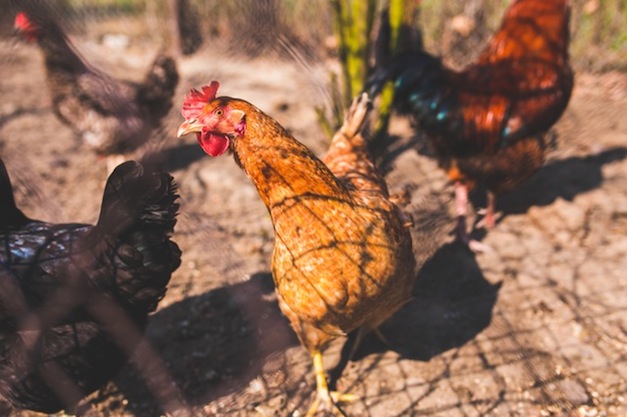 Nestlé S.A., the world's largest packaged food company, announced on Tuesday that by 2020 it would transition to using cage-free eggs in all of its U.S. food products.
The Swiss transnational company annually uses an estimated 200 million eggs, or 20 million pounds, in products produced by its 64 brands. Currently, Nestlé does not use any cage-free eggs, so the planned transition is a particularly quick one.
Want more positive news? Sign up for our newsletter right HERE. 
Although competing companies such as General Mills and Kellogg have made similar commitments, Nestlé's transition will be faster than the others, with General Mills transitioning by 2025 and Kellogg by 2035.
Fast food restaurants have also begun making similar pledges. This year McDonald's announced that it will serve only cage-free eggs in ten years, and Burger King and Taco Bell both committed to switching over to cage-free eggs by 2017 and the end of 2016, respectively. Similarly, since 2013 fast casual chain Noodles & Co. has been using cage-free eggs in its 410 locations.
Nestlé is also the first major food company to enter into a partnership with an international animal welfare NGO, World Animal Protection. The nonprofit shares its expertise of farm animal health, care, and welfare with Nestlé, giving the corporation the knowledge it needs to commit to healthier practices.
Cage-free egg conditions are generally defined as hens kept in large flocks, sometimes numbering in the thousands, without cages. However, the term cage-free doesn't always include the ability to range outdoors. The term "cage-free" is most often contrasted with "battery cage" conditions. According to the Humane Society, the vast majority of egg-laying hens are confined to battery cage conditions, where each hen is, on average, afforded only 67 square inches of space. The welfare, then, of cage-free hens is significantly better than hens living in battery-cage conditions.
Want more positive news? Sign up for our newsletter right HERE. 
The fact that such large corporations are taking steps to reduce animal cruelty is certainly a move in the right direction.
As senior food policy director of the Humane Society of the United States, Matthew Prescott, said in response to Nestlés announcement: "When the world's largest food company speaks, their suppliers listen." It is hopeful that these changes will have expansive effects in the future, creating healthier and more humane conditions for animals.
—————————————————————————————————————————————————