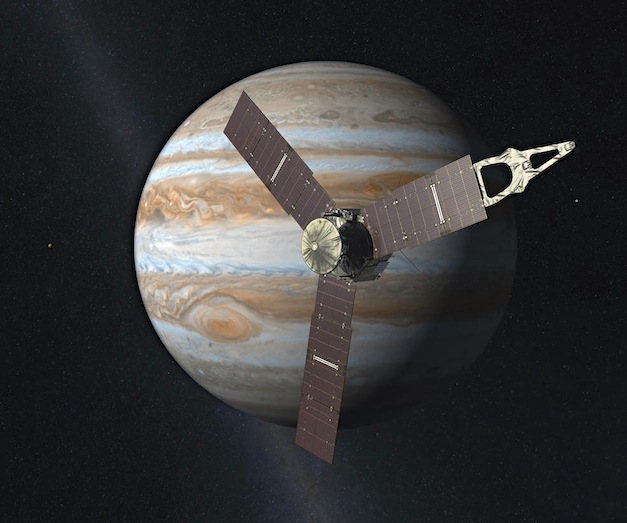 On Wednesday, January 13, the unmanned Juno spacecraft became the most distant solar powered craft in space at an astounding distance of 493 million miles from the sun.
The previous record holder was the European Space Agency's Rosetta craft. That craft reached its maximum distance of 492 million miles in October 2012. It's final destination was the comet 67P/ Churyumov-Gerasimenko.
Want more positive news? Sign up for our newsletter right HERE. 
"It is cool we got the record and that our dedicated team of engineers and scientists can chalk up another first in space exploration," Scott Bolton, Juno principal investigator at the Southwest Research Institute in San Antonio said in a NASA press release. "But the best is yet to come. We are achieving these records and venturing so far out for a reason — to better understand the biggest world in our solar system and thereby better understand where we came from."
The feat is especially impressive due to the nature of solar-powered crafts: they rely on the sun's rays for power. The further Juno travels from the sun, the weaker the star's rays will be, resulting in lower energy yields. Currently Juno is five times further from the sun than Earth is.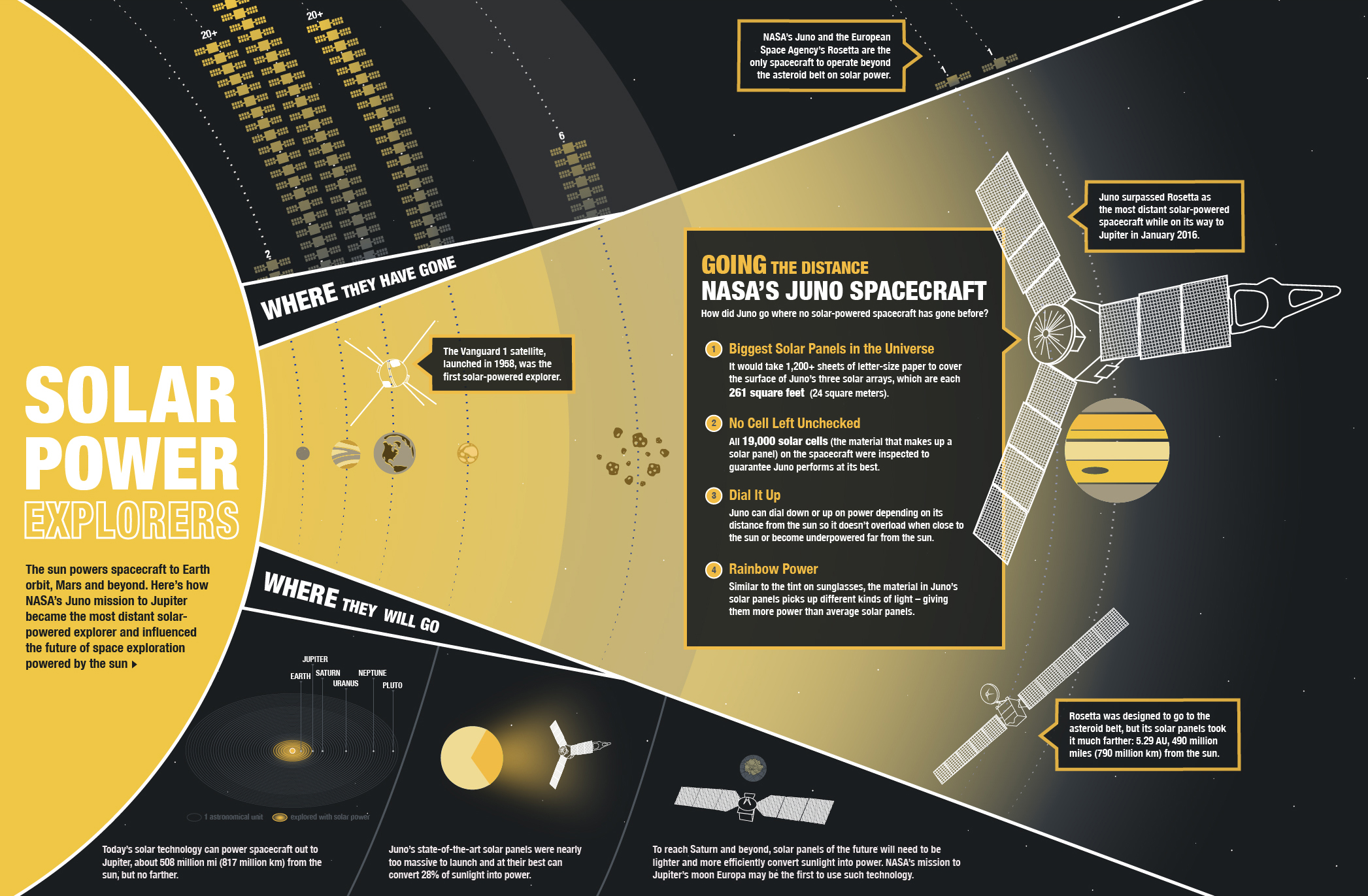 Juno's project manager from NASA's Jet Propulsion Laboratory in Pasadena, California, Rick Nybakken explained that, "Jupiter is five times farther from the sun than Earth, and the sunlight that reaches that far out packs 25 times less punch… While our massive solar arrays will be generating only 500 watts when we are at Jupiter, Juno is very efficiently designed, and it will be more than enough to get the job done."
Juno was launched in 2011 with three 30-foot-long solar arrays, totaling 775 square feet and including over 18,000 individual solar cells. On Earth Juno would produce an impressive 14 kilowatts of electricity.
Want more positive news? Sign up for our newsletter right HERE. 
Created as part of NASA's New Frontiers program, Juno is still over 6 months from reaching its primary objective: Jupiter. Scheduled to arrive there on July 4, 2016, Juno will orbit the planet 33 times, gathering data to help scientists learn everything they can about Jupiter's origins, its structure, its magnetosphere, and its atmosphere.
"Juno is all about pushing the edge of technology to help us learn about our origins," said Bolton. "We use every known technique to see through Jupiter's clouds and reveal the secrets Jupiter holds of our solar system's early history. It just seems right that the sun is helping us learn about the origin of Jupiter and the other planets that orbit it."
To learn more about Juno, Spaceflight101 breaks down the craft's entire mission, and to learn more about NASA's New Frontier's program go here.
—————————————————————————————————————————————————
Image Credits: Credits: NASA/JPL-Caltech