Last week, McDonald's introduced a new policy, which will effectively end the company's acquisition of chicken that was raised through frequent use of most antibiotics. In other words, starting in 2017, McDonald's chicken in its 14,000 U.S. locations will be substantially antibiotic-free.
"Our customers want food that they feel great about eating – all the way from the farm to the restaurant – and these moves take a step toward better delivering on those expectations," said McDonald's U.S President Mike Andres about the two-year plan.
Want more positive news? Sign up for our Weekly Newsletter right HERE. 
Let's take a look at the three main reasons why McDonald's latest decision is a big deal.
1- Chicken is the Most Popular Meat
According to data gathered by the National Chicken Council, chicken is the meat we eat most in the United States (for more information, check out the "Per Capita Consumption of Poultry and Livestock" chart). Experts and advocates agree that changing health policies on this nation's most popular meat will have an impact on beef, pork, and other meat industries as well.
2- Antibiotics Resistance in Humans
"The reason this announcement is so important is that, for decades, researchers have been linking the use of antibiotics in livestock-raising to the rise of antibiotic-resistant infections in humans," Maryn McKenna, author of "Superbug," wrote in an article for WIRED magazine.
The problem is that farmers have gradually increased the use of most antibiotics (including ones intended for humans only) in poultry in order to promote growth and prevent infections, which started to cause antibiotics-resistant bacteria that can infect humans directly. As a result, human antibiotics in those cases won't even be able to protect humans from infections either.
Want more positive news? Sign up for our Weekly Newsletter right HERE. 
McDonald's new policy forces farmers it buys chicken from to stop using human antibiotics and commit to lower doses and responsible use of ionophores, a form of antibiotic that is not used for humans, but can prevent diseases in chicken.
"You can construe it as a kind of spectrum. And at one end of the spectrum, there's giving antibiotics for diseases for when animals are sick – and no one disagrees with that," McKenna told NPR News.
She added that scientific studies conducted over the last decades have shown a positive downward trend of antibiotic-resistant bacteria affecting humans in countries where the use of antibiotics on farms has been restricted.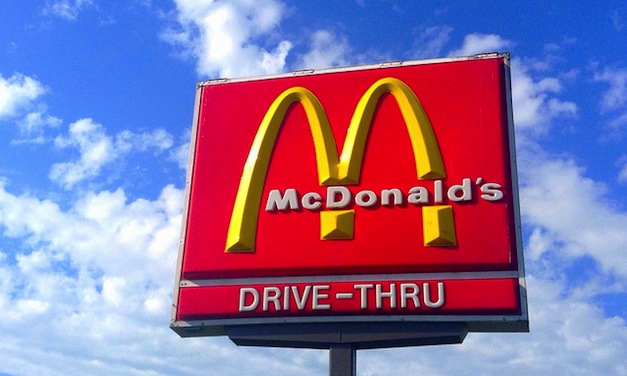 3- Industry Impact
One of the most important facts about McDonald's announcement is that the company is a fast-food giant and has the power to set an example that will impact the entire fast-food industry.
While Chipotle started a trend toward health-conscious fast-food consumers and gave the antibiotic-free meat industry a boost in 2012, according to NPR, it is giants like McDonald's that can tip the scale in a significant way.
"This is really a big deal… anytime you talk about something that McDonald's does, it means that it's a buyer really at the top of the market. And it's therefore very likely that whatever they do is going to set a model. And that is something that people have been wanting the meat industry to move toward for decades now," McKenna concluded in her interview with NPR.
Want more positive news? Sign up for our Weekly Newsletter right HERE. 
McDonald's Healthy Choices
In addition to the announcement about human antibiotic-free chicken, McDonald's U.S. restaurants will also start offering its customers "milk jugs of low-fat white milk and fat-free chocolate milk from cows that are not treated with rbST, an artificial growth hormone," according to the company's officialy statement.
The latest moves toward a healthier McDonald's are all part of its new "Global Vision for Antimicrobial Stewardship in Food Animals" policy, which you can learn more about right here.
Congresswoman Louise Slaughter (D-NY), who has been fighting for a bill that would limit medically important antibiotics to human medicine, poignantly summarized the latest developments when she told Wired that, "This is proof that when an enlightened public demands change, companies respond."