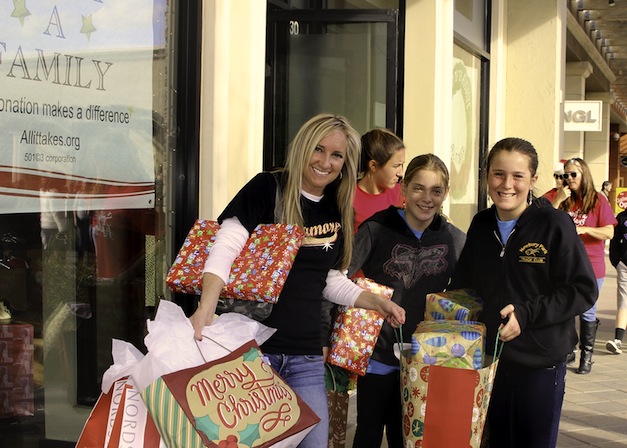 Giving is never more prevalent than during the holidays. Many people serve in soup kitchens and homeless shelters or buy Christmas gifts for families in need through local organizations such as All It Takes.
In 2010 Lori Woodley and her daughter Shailene, who just received a People's Choice Award last week, founded All It Takes, an outreach organization that truly embodies the Christmas Spirit all year round.
Want more positive news? Sign up for our newsletter right HERE. 
"We founded All It Takes in an effort to inspire people to get out of their boxes and out of their little shells and go and do something that makes a difference in the world," said Lori Woodley, adding that "Time, talent or finances, we all have something to give. So our thing is 'do something that matters to you.'"
Five years ago, Woodley heard that one of her coworkers was ill and did not have the finances to provide a Thanksgiving meal for her family. After sending a few text messages to her own family, Woodley raised enough donations to supply a Thanksgiving meal.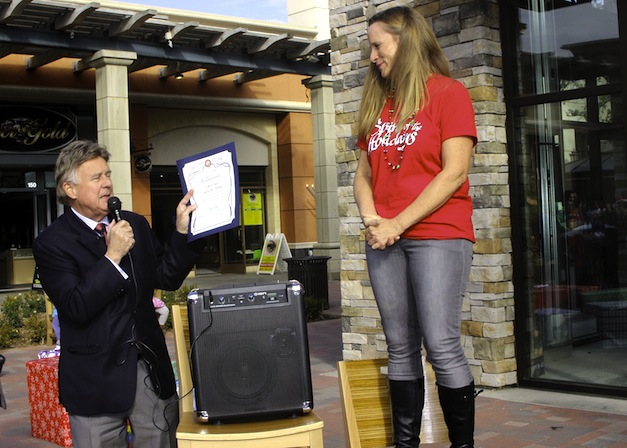 It was Woodley's mother that suggested the family may need help during Christmas as well. "We thought, 'Well, we can't do just one family. Let's do more.' And that's how Spirit of the Holidays (the Christmas charity program facilitated through All It Takes) was formed. So the first year (we served) eleven (families). From concept to delivery, it took three weeks and eleven families (were) served…This year we served 77 families," Woodley proudly proclaimed.
The Spirit of the Holidays program has steadily increased each year in both amount of families served and volunteers. This year 225 volunteers helped deliver gifts. However, the entire process involved over 900 volunteers from processing applications to shopping for and wrapping gifts.
Want more positive news? Sign up for our newsletter right HERE. 
Families apply through and are vetted by outside sources such as The Samaritan Center, pastors, social workers, and others who then refer them to All It Takes. The process begins around August and selected families are informed approximately one month in advance that they have been adopted.
Betty Eskey, director of the Samaritan Center, a partner of All It Takes, shared that "the majority of the families that will be served today are either homeless or they have very low income." When asked what she gets out of participating in the Spirit of the Holidays, Eskey explained through tears, "I get the joy of seeing kids and families come together around the Christmas tree and see their faces as they are excited about Christmas morning…and the parents are as thrilled as the kids are because they're able to make it happen for their kids."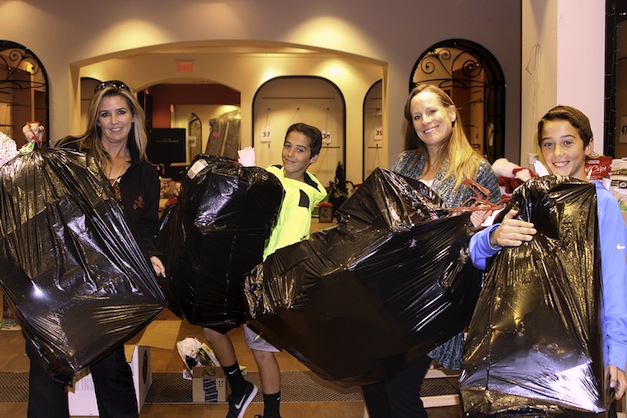 "I've had so many parents and applications that we took and they said 'we don't want anything. We just want to make sure our kids have something on Christmas morning.' It's about the giving and the sharing in the community," she added.
One adopted family consisting of a single mother, Danielle, and her two daughters, Jasmine,12, and Breanna, 7, received plenty of wrapped gifts, a Christmas tree and decorations from a special sponsor, Kristine Papadopolous. Two years ago, Papadopolous was diagnosed with cancer which put her family under financial strain. All It Takes found a sponsor to make Christmas possible for her family that year.
Want more positive news? Sign up for our newsletter right HERE. 
"This is my first year (sponsoring a family). This is my way of paying it forward. (All It Takes) is an awesome organization and it's an awesome feeling to be able to do this," Papadopolous told Luminary Daily.
Recipient, Danielle, was moved to tears by the outpouring of generosity. "It's absolutely amazing." Danielle, who is a volunteer at the Samaritan Center, lost her job in October. "I have no idea how I was able to pay my rent last month " she stated.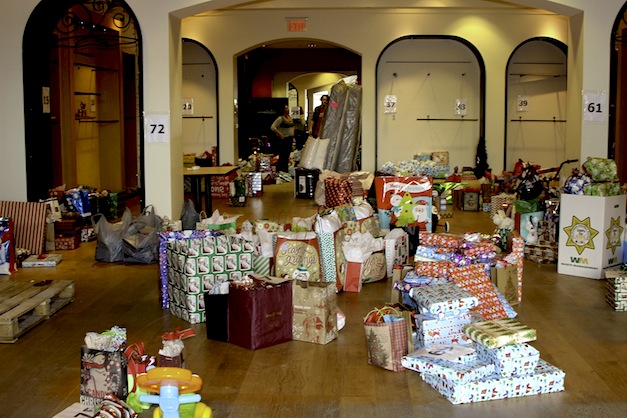 When explaining the importance of Christmas, Danielle became emotional. "If it weren't for my girls I could get away with not having much of a Christmas, but having kids… kids have to have a Christmas." When daughters Jasmine and Breanna arrived home, they were thrilled to see the gifts and a lit Christmas tree, which they immediately began to decorate.
"I would love for people to be doing this model in other communities… We need to be focusing on the good in the world. There is way more good in the world than there is not. The other stuff that is not is just louder. So we need to be shouting our thing. We need to keep putting it out there into the world," Woodley concluded.
What an inspiring way to begin 2016!
—————————————————————————————————————————————————