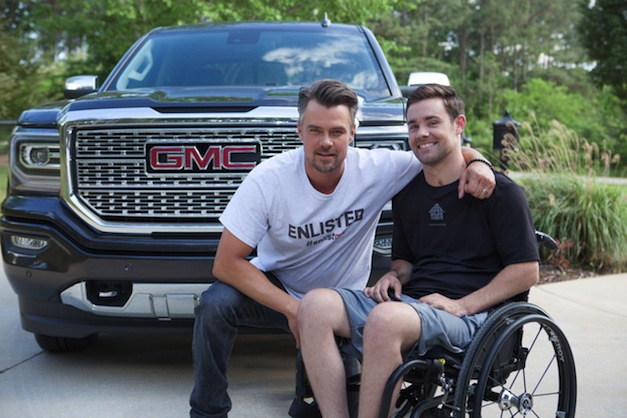 Actor Josh Duhamel celebrated this past Memorial Day by teaming up with GMC and the veteran's support organization, Building for America's Bravest, and their #enlistme campaign, which launched in 2015 and continues to build smart homes for some of America's most tragically wounded veterans.
GMC has committed to contribute up to $2 million by the end of 2016 and is asking people across the country to "enlist to unlist" the more than 200 severely injured service men and women currently waiting for smart homes.
"GMC came to me and asked if I wanted to be a part of this program, and the more I really researched it, the more I loved it and felt it was the most perfect sort of partnership," said Duhamel, for whom Veterans have always been a passion near and dear his heart.
Want more positive news? Sign up for our newsletter right HERE. 
Duhamel, 43, sees his dedication to the cause as also being an opportunity to show his two year old son that helping people is really what life is all about. The "Transformers" star has veterans in his family with an aunt who fought in Iraq and the Balkans as well as a grandfather who served during the Second World War.
Duhamel has spent much time on the road for the cause visiting with wounded veterans from all around the country, who he said have had a major impact on his life.
In addition to his on-the-ground work, Duhamel has helped the organization produce a short ˝mentary about the subject that he hopes will impact others as he has been impacted. You can see the result in the video above.
Want more positive news? Sign up for our newsletter right HERE. 
After meeting some of these veterans, and one in particular — Marine Sgt. Ben Tomlinson at his smart home in Jacksonville, Alabama, who is featured in the documentary — all he could do was marvel at their courage and their perseverance.
"It really is inspiring," said Duhamel, "not because of what he went through, but how he's persevered after and the positive attitude he has toward everything even in the face of severe injury. For a lot of people, this could be the end. This could be a reason to sort of lay over and not do anything. But, instead, they're actually inspiring people to do better and to help. It's incredible – they're heroes."
—————————————————————————————————————————————————
Image Credit: © General Motors