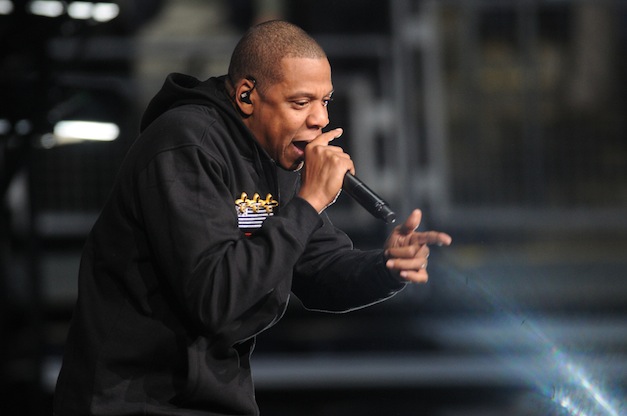 Some of music's best and brightest artists will be coming together for September's Global Citizen Festival – a massive, free, ticketed event in New York City's Central Park aimed at uniting people behind the goal of ending extreme poverty by 2030.
Jay Z might not be the first person that comes to mind when you think of poverty, but it's clear that this is an important issue for him, as he headlines alongside No Doubt, Carrie Underwood, Fun., The Roots, and Tiësto.
"Change only takes place when and where there is action," the rapper and record producer said in a statement. "I'm joining the 2014 Global Citizen Festival because I believe through actions, whether it be by raising awareness, getting involved or educating ourselves, the goal to end extreme poverty by 2030 is possible."
The concert is also a unique opportunity for No Doubt fans that haven't been able to see the band play together in years, as they are coming together for the great cause.
"Global Citizen will be the first show No Doubt has played together in two years," bassist/co-founder Tony Kanal told Rolling Stone. "It's a great way to get us back on stage. It was such an honor to be asked to play this particular concert. It's unacceptable that over 1 billion people live in extreme poverty, and it's got a pretty eclectic lineup, which reflects the event's true spirit of diversity."
EDM king Tiësto will also be playing in this year's lineup. Global Poverty Project co-founder Hugh Evans explains to Rolling Stone that the dance music is so important when reaching young millennials.
"Global Poverty Project's effort to end extreme poverty by 2030 is a cause I strongly support," Tiësto told Rolling Stone. "I am incredibly honored to be part of this year's lineup for the Global Citizen Festival in Central Park and to add my voice and the voices of my fans to those calling on the world's leaders to throw their weight behind GPP's efforts. It's going to be an amazing show in one of the most unique venues in the world."
This year's Global Citizen event will focus on three main issues: bringing problems stemming from inadequate sanitation around the world to the forefront, getting vaccines to those who need it most, and making education more accessible to children who are denied the right to knowledge.
According to the event's website, the impact of the Global Citizen Festival can be felt. Since Global Citizen launched in August 2012, the group's efforts have led to more than $2 billion in new financial commitments across issues ranging from polio eradication to women's equality.