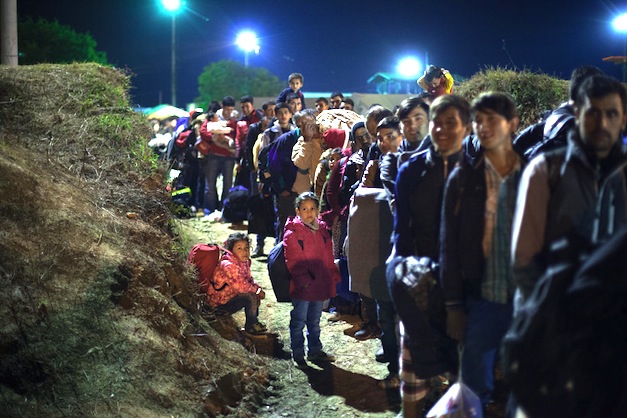 This week, the company behind Tokyo-based clothing chain "UNIQLO," Fast Retailing Company Limited, has partnered with the United Nation refugee agency (UNHCR) to announce a new agreement to support refugees worldwide.
The agreement includes a provision of $10 million in funds to respond to emergencies and to distribute winter wear for new arrivals in Europe. Additionally, Fast Retailing confirmed the expansion of its internship program in Japan and abroad, providing refugees in Asia with opportunities to become self-reliant.
Want more positive news? Sign up for our newsletter right HERE. 
"Nearly 60 million people have been forced to flee their homes worldwide; the equivalent to almost half the population of Japan. 20 million of these people are refugees," António Guterres (pictured below), the UN High Commissioner for Refugees, said in a statement.
"I welcome Fast Retailing's decision to stand behind refugees not just through its generous funding, but also by mobilizing its staff, business partners and customers to join forces for the refugee cause," Guterres added in saying that robust support from the private sector is crucial to meet the unprecedented refugee challenge.
Echoing that sentiment, Chairman, President and CEO of Fast Retailing, Tadashi Yanai, said that the refugee issue is one of the most difficult challenges the international community is facing today.
"We must collectively tackle the constant threats that have forced so many people, including a large number of children, to flee," Yanai commented on Wednesday's announcement.
The company has been providing refugees with emergency assistance, initiatives that promote self-reliance as well as donations of clothing for nearly 10 years, and to date, Fast Retailing has collected and distributed through UNHCR more than 10 million items of lightly used clothing to refugees across 37 countries.
Want more positive news? Sign up for our newsletter right HERE. 
Now, the UNHCR said, an additional 150,000 items of Extra Warm HEATTECH clothing will be provided by the agency to help families seeking asylum in Europe and Afghanistan through the coming winter.
In an official statement, the company concluded that it will "continue to supply refugees with the clothes they need and give them hope for better lives, in keeping with our never-ending desire for a sustainable and peaceful world."
—————————————————————————————————————————————————