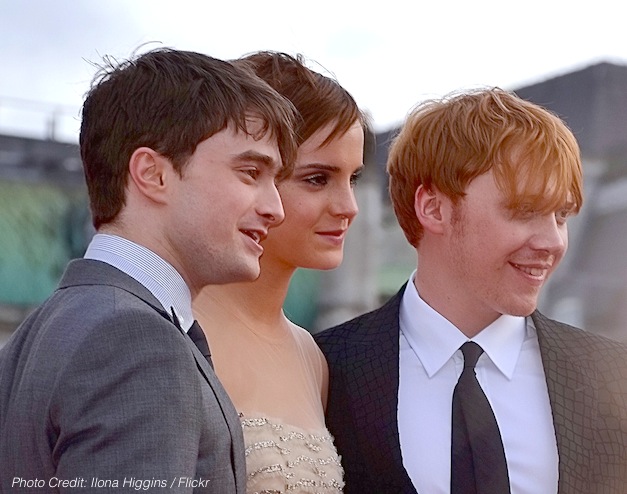 Harry Potter is back! In a small way anyway…
Yesterday, J.K. Rowling posted a new short story revealing details about Harry and the gang as adults on the Pottermore website. (The 1,500-word piece was so frequently viewed that morning that it caused the site to briefly crash!)
Rowling writes the piece from the perspective of the infamous (and fictional) gossip columnist, Rita Skeeter, who has put together a column about the members of "Dumbledore's Army" as they come together for the Quidditch World Cup.
It should be mentioned that Skeeter is known in the books to write unreliable stories full of exaggeration and nonsense, but still, the piece gives some details about the characters we love and miss.
Rowling has been writing "reports" about the Wizarding World's World Cup for months. Here are some fun facts that we've learned about grown-up Harry, Ron, and Hermione:
According to Skeeter, Harry who is now nearly 34-years-old, "continues to wear the distinctive round glasses that some might say are better suited to a style-deficient twelve-year-old." He's also "sporting a nasty cut over his right cheekbone," which Skeeter believes is probably due to his work as an Auror, an officer trained to catch dark wizards.
Ron's iconic red hair is now thinning. Poor Ron. He also used to work alongside Harry at the Ministry of Magic before he left to "co-manage the highly successful wizarding joke emporium Weasleys' Wizard Wheezes."
Hermione is still an overachiever, but there's no surprise there. Skeeter writes: "After a meteoric rise to Deputy Head of the Department of Magical Law Enforcement, she is now tipped to go even higher within the Ministry."
Rowling will publish one final article of this series on the Pottermore site on 11 July 11, this time from the perspective of Ginny Potter, who is now a journalist, covering the 2014 Quidditch Cup final.