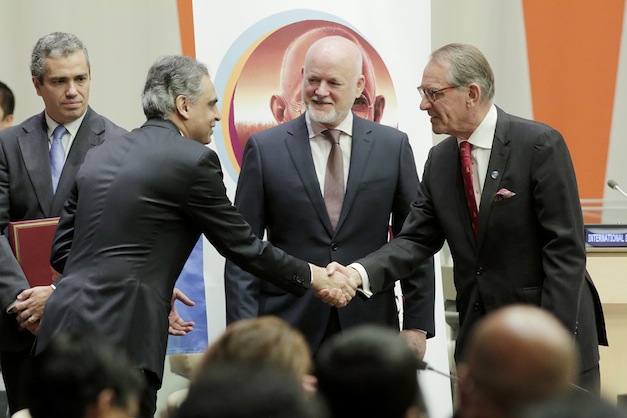 India is the world's third biggest carbon emitting country, and it just became the latest large nation to join the Paris Climate Change Agreement, which calls on countries to "combat climate change and limit global temperature rise to well below 2 degrees Celsius." Officials sent the documents to ratify the agreement to the United Nations on Sunday, which marked the anniversary of Gandhi's birthday.
India's ambassador to the U.N., Syed Akbaruddin, delivered the documents to the United Nations Office of Legal Affairs in New York City, while the ceremony was back dropped by a portrait of Gandhi, who is seen as the father of modern Indian independence.
Want more positive news? Sign up for our newsletter right HERE.
"That this step, so full of hope and commitment, occurred on the anniversary of the birth of Mahatma Gandhi is especially fitting, given the Mahatma's enduring ethical messages of humanism, environmentalism and pacifism," UN General Assembly President Peter Thomson said in a statement.
The Indian subcontinent is home to 1.3 billion people, and the country accounts for an estimated 4.1 percent of global greenhouse gas emissions. They are still growing quickly, and instead of limiting the amount of energy being used, the government wants to increase the amount of sustainable or green energy that the country produces as a way to decrease their carbon footprint.
They set the goal of producing 40 percent of electricity from non-fossil fuel sources by the year 2030. India also plans a sink for at least 2.5 billion tons of carbon dioxide by planting or preserving adequate forests and tree cover. They also called on other countries to share updated technologies that will help them decrease the amount of emissions being produced in India.
In order for the historic climate agreement arranged by 195 nations in Paris last year to be formally ratified, at least 55 countries that make up a total of 55 percent of the carbon emissions in the world need to sign up. So far, 62 countries have signed up — now including India — accounting for an estimated total of 52 percent of the world's carbon dioxide emissions.
Want more positive news? Sign up for our newsletter right HERE.
Last month, China and the United States joined the agreement as the first and second biggest polluters in the world to slow down climate change. Each country that joins is required to present concrete plans to curb their consumption of fossil fuels and the production of carbon emissions with various strategies.
The 28 countries of the European Union, which count as one entity, are expected to sign the agreement this month, which will fulfill the required quota for the ratification of the Paris agreement. The next round of global climate talks will take place in Morocco in November.
—————————————————————————————————————————————————