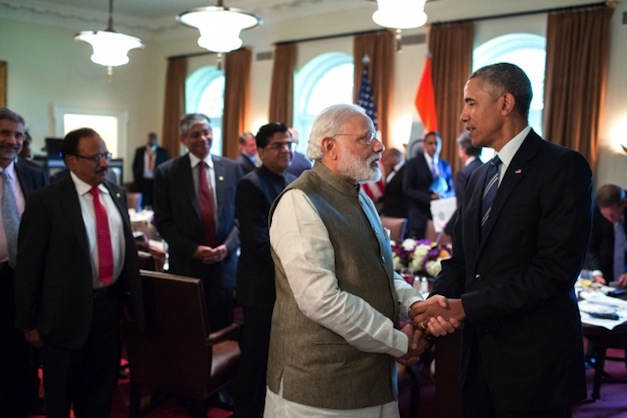 World leaders have continued taking steps to address the issue of climate change. The White House announced on Tuesday that India's Prime Minister Narenda Modi made a series of agreements with President Obama, including making an effort to fight climate change by cooperating in the Paris climate accord.
Both India and the US have agreed to establish down terms of limiting greenhouse gas HFCs that are used in air conditioners, and a one-year deadline on a deal to create six commercial nuclear power plants.
Want more positive news? Sign up for our newsletter right HERE. 
The country of India is responsible for an estimated 4.1 percent of global emissions. For the Paris agreement to take effect, 55 countries representing 55 percent of global emissions have to agree to ratify the terms. According to the United Nations, 17 small countries have ratified it, while more have promised to join during 2016, including the United States and China.
"If India joins, it will practically put us over the hump of 55 percent of global emissions required for ratification," said Andrew Light, a former State Department negotiator who is now at the World Resources Institute, according to the Washington Post.
Among the topics addressed was India joining the Nuclear Suppliers Group, which includes 48 nuclear trading nations. China was against India joining because the nation's government didn't sign the Nuclear Non Proliferation Treaty in 1968. They went on to build and test their own nuclear weapons in 1974 and May 1998. President Obama was in support of India joining the group, and negotiated a deal for Westinghouse to build six reactors in India with loans backed by the U.S. Export-Import Bank.
"Culminating a decade of partnership on civil nuclear issues, the leaders welcomed the start of preparatory work on site in India for six AP 1000 reactors to be built by Westinghouse and noted the intention of India and the U.S. Export-Import Bank to work together toward a competitive financing package for the project," Obama and Modi said in a joint statement.
Want more positive news? Sign up for our newsletter right HERE. 
"A key priority for both of us is how to promote economic prosperity and opportunity, and poverty alleviation for our people. We continue to discuss a wide range of areas where we can cooperate more effectively in order to promote jobs, promote investment, promote trade, and promote greater opportunities for our people, particularly young people, in both of our countries," the concluded.
In his sixth visit to the White House, Modi and President Obama also discussed national security, naming India as a "Major Defense Partner," so the two militaries can share technology, and military bases as allies.
—————————————————————————————————————————————————
Image Credit: Official White House Photo by Pete Souza