A California-based startup called Advanced Rail Energy Storage (ARES) has designed a novel solution to storing energy with rather traditional tools: trains, rocks, and gravity.
As our planet hurtles toward irreconcilably high global temperatures, renewable energy is becoming a priority and necessity. Unfortunately, such energy — like solar and wind — is only practical when the sun is shining or when the wind is blowing. Pair that with the fact that storing excess energy produced during peak production to be used later is both costly and inefficient, and it's easy to see why the transition to renewables is so flummoxing and difficult.
ARES hopes to revolutionize the way these renewable energies are stored, thus allowing them to be effectively captured and used any time of the day. To do so, ARES has constructed a heavily laden train in California.
Want more positive news? Sign up for our newsletter right HERE. 
At its core, the idea is simple: when excess energy is produced from a renewable source, the train will be pushed up an incline. Then, later, once the wind has died down, or the sun has set and the power grid needs that energy back, the train will roll back down the slope. And, as the electric motors run in reverse, energy will be generated and put back into the grid.
In the past, similar solutions have been utilized. Pumped-storage hydropower, which uses excess energy to pump water up a hill and — like ARES — capture the downhill flow of the water when needed. ARES, however, has the great advantage of not requiring large amounts of water, while still being at least as efficient in energy reclamation as hydro-storage.
And unlike batteries — another solution to storing renewable energy — trains do not have a life cycle limit, nor do they contain some of the toxic chemicals found in batteries. Similarly, ARES trains are fully electric, so they will not generate any emissions.
ARES, as promising as it seems, has faced pushback regarding the price of implementation. According to Wired, a senior analyst with IHS Emerging Energy Research has said that the setup involved in ARES, including bringing railcars up to specifications, is more expensive per kilowatt-hour "than almost anything else on the market today."
However, as ARES CEO James Kelly noted, "We are more efficient as we get larger;" the more energy stored with ARES trains, the more cost effective the process becomes.
Want more positive news? Sign up for our newsletter right HERE. 
And, while ARES is not currently serving any major grids, one state has signed a contract with the company. In April, the Nevada Bureau of Land Management granted environmental approval and land lease to ARES, which will lay 5.5 miles of track up an 8-degree slope. Seven 8,600-ton trains with two locomotives and four cars each will then store excess renewable energy.
Construction on the project is slated to start in early 2018 with operations beginning as soon as 2019. And it couldn't come any sooner: two-thirds of America's electricity comes from fossil fuels; innovations like ARES are essential to curbing our carbon footprint.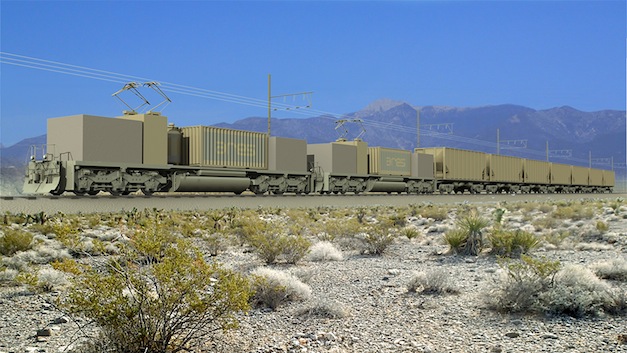 For their dogged innovation, and for their desire to help shape the landscape of energy production for the better, we are proud to name ARES our Luminaries of the Week.
For more information on ARES, go here.
—————————————————————————————————————————————————