6.9K Flares
6.9K Flares
×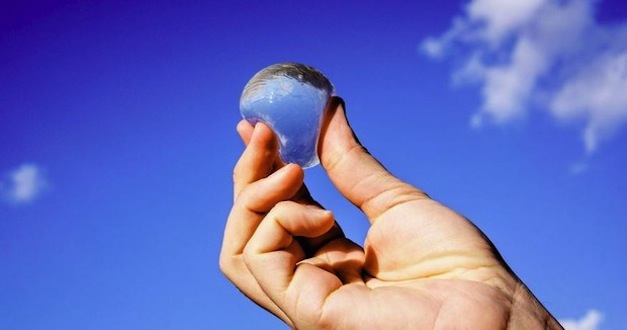 With a little trick called spherification, Skipping Rocks Lab has created the world's first entirely edible water bottle, the "Ooho." You heard right… a water bottle you can eat.
Why?
The plastic water bottle has been an economic challenge for years, and according to a study published in Fast Company, Americans alone use over 50 billion of these bottles a year, recycling less than a quarter of them. The resulting waste continues to trouble scientists, as not only the creation of plastic, but also its disposal has significant impact on global warming. (Learn more about the impact bottled water has on the environment right here.)
The Ooho looks to fix this.
Designed by Rodrigo Garcia Gonzalez, Pierre Paslier, and Guillaume Couche, three graduate students in London, the Ooho is essentially water in a bag, only this bag is made out of algae that is entirely edible.
Want more positive news? Sign up for our Weekly Newsletter right HERE. 
To do this the designers used a technique called spherification, a "process of shaping a liquid into spheres which visually and texturally resemble roe," originally used by chefs to make fake caviar in the 1950s. The ingredients are pretty basic: brown algae and calcium chloride, which makes the "skin" 100 percent biodegradable (in case you don't want to eat it).
In an interview with Wired.co.uk, Gonzalez pointed out one of the several key highlights of Ooho is that, "It's very easy to make… The project is licensed under Creative Commons so everyone can do it at home." In fact, if you are curious about how to make your very own Ooho, here is the how-to video Skipping Rocks Lab shared online:
Another major benefit of the Ooho is that unlike the plastic water bottle, the production requires no fossil fuels and creates no CO2 emissions. Not to mention the very low price point, clocking in at around 2 cents a sphere.
Other products similar to the Ooho have already begun popping up. WikiFoods, a branch of Quantum Designs, is marketing its "WikiPearls" at Whole Foods. The "WikiPearls" have been used for three products so far: yogurt, ice cream, and cheese. Each is wrapped in edible, plastic-free packages made from natural ingredients.
Want more positive news? Sign up for our Weekly Newsletter right HERE. 
So while Ooho may not be the first, it joins several other innovative products seeking to reduce the staggering quantities of plastic waste created by food and water packaging.
Their work on Ooho earned Gonzalez and the rest of Skipping Rocks Lab team the 2014 World Technology Award (environment).
For their innovative, simple, and rather affordable new approach to packaging one of the world's most valuable resources and, as a result, creating an opportunity to reduce global warming and humans' impact on the environment, we name Garcia Gonzalez, Pierre Paslier, and Guillaume Couche our Luminaries of the Week.
To learn more about Ooho and Skipping Rocks Lab, head over to their official website right here.

—————————————————————————————————————————————————
All images: Copyright © 2015 by Skipping Rocks Lab – All Rights Reserved

You Might Also Like: