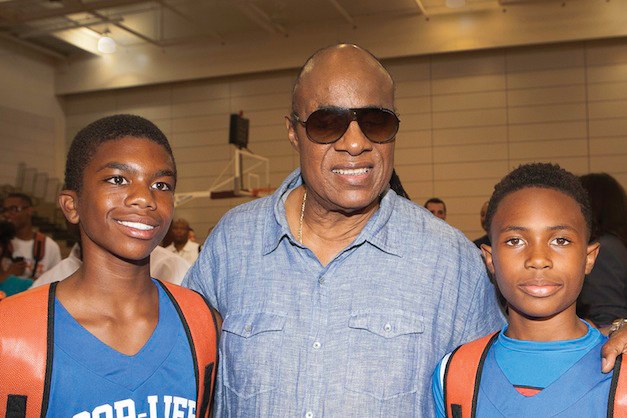 When Stevie Wonder and Kai Milla's son Kailand turned 13 years old one year ago, his mother challenged him to do something that would be more valuable than any material gift he would ever receive. That challenge was to give back.
Over the years, Kailand has developed a great talent and passion for basketball; so together with his parents, he reached out to Lori and Shailene Woodley's "All It Takes" organization to become a youth ambassador and put together an annual "FriendRaiser" in the form of the "Hoop-Life Youth Basketball Tournament." Hoop-Life would feature four teams – consisting of ten 12-14 year old players – invited from community-based organizations as well as celebrity coaches and athletes.
Want more positive news? Sign up for our Weekly Newsletter right HERE. 
All It Takes aims to create measurable and meaningful change for youth in the L.A. area and beyond with a focus on increasing self-esteem, efficacy, resiliency and confidence all resulting in a reduction of unkind and bully behavior and which increases school and community safety and reduces self harming behaviors such as drug use and ultimately suicide. Keeping the leaders of tomorrow and their influence in mind, the organization invites middle schools to select students who show signs of leadership skills and charisma within their individual 'lunch table' groups to attend a three-day Youth Leadership Camp in Malibu."
There, the All It Takes program helps students learn to recognize and embrace their individual strengths and weaknesses, build social tolerance, and get a better understanding of the profound impact their actions have on the world around them. The ultimate goal is to "return to their campuses with an action plan and the tools to create cultural change that increases school safety, individual wellbeing and a setting where all students can thrive academically and socially."
AllItTakes.Org Leadership Camp from Luminary Daily on Vimeo.
Next Sunday (August 30), Kailand along with his parents Stevie Wonder and Kai Milla will once again host the now 3rd Annual Hoop-Life Youth Basketball Tournament at the USC Galen Center in Los Angeles. Invited guests include Usher, Nick Jonas, Zendaya, Mike Epps, L.A. Lakers' Head Coach Byron Scott, L.A. Lakers' Nick Young and Roy Hibbert, as well as L.A. Clippers' Blake Griffin and DeAndre Jordan.
In an exclusive interview with Luminary Daily, Kai and Kailand talked about giving back, the importance of communication between teenagers and their parents, as well as the future of our youth in the United States.
—————————————————————————————————————————————————
Interview
What is the change that you would like to see for our youth here in Los Angeles?
Kailand: The change I would like to see is for our generation to be better informed (and guided), because we can look up anything about life on the Internet, but we need our parents to guide us.
Kai: I have to agree. We have a generation of youth that, while the information is so accessible to them, can easily be misinformed. I did not have that growing up. We just didn't have all that information, so … as parents and leaders, we have to make sure that we give them the right information and the right tools for life. One of the things that we found in working with All It Takes, is that they have a passion for children and giving them the tools to be knowledgeable and guided in the right way.
As a successful business woman and mother, what advice would you give teenagers who have their own dream of a successful future, but might feel intimidated or bullied by their piers?
Kai: I really believe that every last one of us has a dream. We've also all been granted something that we are good at. It's all about the process of finding out what that is. And some of it might be off the beaten path; so when other people do not understand that, there is room for people to bully. There is a lack of understanding about what is passion and what another person considers so important to them. What I tell my kids is, "You don't have to say everything right away. Find out what you want to do and find your voice first, so that you can better educate someone who does not understand what you are about."
I found that once kids understand that we all have differences, which is a good thing, … (their) voice is strengthened by saying, "I'm solid in what I am, so you may want to bully me, but I'm just going to let that roll off of me." It's really about finding your voice first. You'll be amazed to see, when children find their voice on something that they believe in, how they really stand up for it, which makes it a little more difficult to bully someone on something – because they are going to stand firm on their beliefs.
Want more positive news? Sign up for our Weekly Newsletter right HERE. 
What would you like parents to know about teenagers and how they could help boys and girls build confidence and find happiness?
Kailand: I'd say to listen to us, to what we are saying. To listen to our thoughts, because they don't really know what's going on at school; and we need to tell them some things that they might not always listen to.
Kai: I have to tell you, when I was growing up – I'm from Washington D.C. – my parents worked a lot. When they got home they were tired…, but we still needed to talk to them about what went on in school, about what happened, and what you are feeling. And it's even more important now, when often times both parents are out working.
We really have to take that time and listen to what our kids are going through. There is only a short window for us to really connect with our youth, and we need to take that time to connect with them and embed in them what we believe in, to strengthen them. Unfortunately, sometimes when that window of opportunity is missed, we have a lot of misinformed youth … , because they have so much available to them. Sometimes we have got to take those remote controls and take them away from the television for a few minutes and then have that family time. Kids really do like to share their experiences and talk about what they are doing.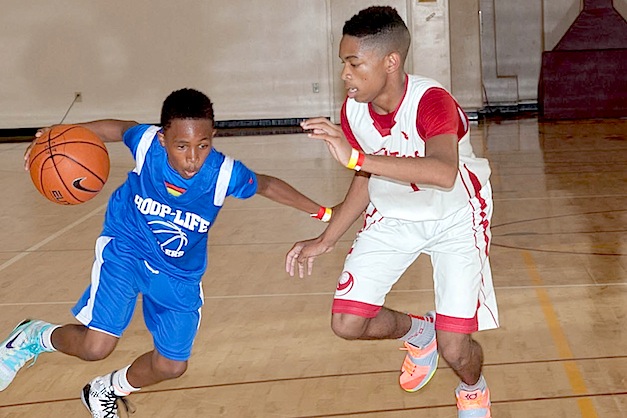 What is your single most favorite thing about Hoop-Life and All It Takes?
Kailand: Definitely bringing families together, having fun, and raising money to send kids to camp.
Kai: I have this challenge for our two boys, where I like for them to express what they like to do. And one of the things that Kailand was interested in was basketball. Musically he can play everything – he is amazing at playing piano and the drums –but he chose sports. And he is very good at it!
I challenge both of my kids, when they turn 13, to give back. You have to find an organization or something that you are passionate about that you will now give your time and your support to. That is the best gift, I feel, that I can give to just anyone of his generation … to understand that part of this life is about you giving back.
He really enjoyed putting the tournament together and he started teaming up with sponsors. Over time, the effort got bigger and another sponsor came on board, and another athlete came on board… so he saw that work equals progress. I'm happy that they received that lesson… even his friends. You just plant that seed and then see how it grows. After he and his friends went to camp, he came back and told me about his experience, which was very touching and very empowering.
Kailand: My favorite moment was winning the championship last year… going undefeated and getting all those trophies. That was really fun!
Kai: Now, our 10-year-old is sitting down and mapping things out saying, "Well I'm a part of this energy, too." He's ready. When they see how things that they put their minds to can grow, young people start making things happen. That's been the most exciting part for me.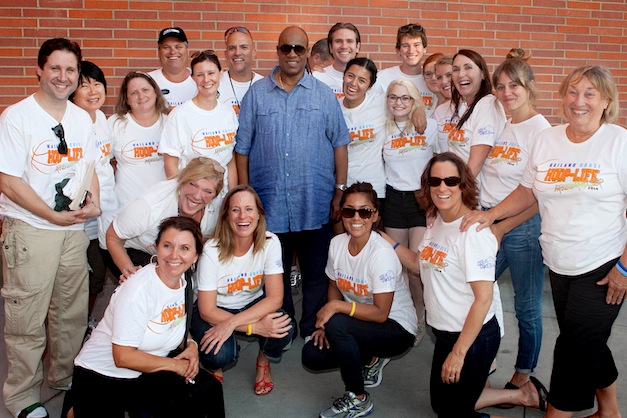 What would you like the U.S. Congress to know and consider about the future of our youth here in the United States?
Kai: I think really just letting them express themselves and have a voice. Because they have an opinion. Listen to them. They (U.S. youth) certainly know how to use the Internet to get information out… but it's really us connecting with them (that makes all the difference).
I'm also very big on health. Healthy eating, to me, equals happy kids. We've got to really look at what we are feeding our kids, what we give to them. I think it's all connected.
How can people get involved with Hoop-Life and All It Takes?
Kailand: You can make donations on the website so we can send more kids to leadership camp for them to have a great time.
Kai: AllItTakes.org has a lot of great information. Donating is very important because it really does allow us to send more kids to camp; and it's about getting them out of their environments to let them be accepted for who they are. We are excited that we are getting so much great (media) coverage and that it is growing the way that it is. We look forward to seeing everyone next week – it's going to be a lot of fun!
—————————————————————————————————————————————————
Images by Karen Hoyle