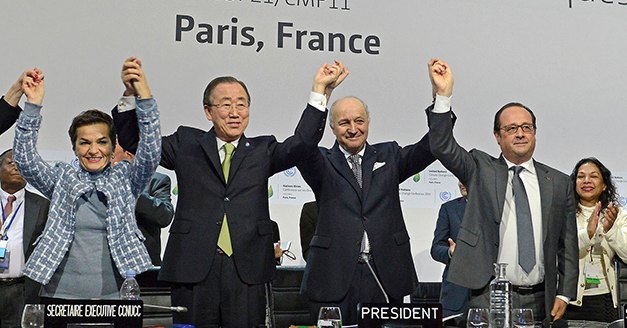 The United Nations and the White House both announced on Wednesday that the 2015 Paris climate change agreement reached the quota for official enactment.
"What once seemed unthinkable, is now unstoppable. Strong international support for the Paris Agreement entering into force is a testament to the urgency for action, and reflects the consensus of governments that robust global cooperation, grounded in national action, is essential to meet the climate challenge," United Nations Secretary-General Ban Ki-moon said in a statement.
Want more positive news? Sign up for our newsletter right HERE.
Adopted in Paris by the 195 Parties to the UN Framework Convention on Climate Change (UNFCCC) at a conference known as COP21 this past December, the Agreement calls on countries to combat climate change and to accelerate and intensify the actions and investments needed for a sustainable low-carbon future, as well as to adapt to the increasing impacts of climate change.
In order to be officially ratified, at least 55 countries that account for at least 55 percent of the world's carbon emissions had to sign up. According to the United Nations, the European Union as well as Canada, Bolivia and Nepal officially submitted their ratification documents on October 5th, for the 2015 Paris Agreement to bring the participating countries combined world greenhouse gas emissions to an estimated 56.87 percent.
"I can think of no other multilateral environmental agreement that has gone from promise to living reality in such a short space of time — real momentum," Nick Nuttall, the spokesman for the UNFCCC in Bonn, Germany told CBS News, "It has been quite breathtaking how quickly this has all happened, after 20 years of often fraught negotiations, Paris marked a watershed of enthusiasm, cooperation and determination."
Each country has to implement their own voluntary national programs. It will take 30 days for the agreement to formally start being enforced, which happens to be only a few days before the presidential election in the United States.
Want more positive news? Sign up for our newsletter right HERE.
President Obama took to the White House Rose Garden to make a statement on the historic occasion. He concluded that, "Today is a historic day in the fight to protect our planet for future generations. Make no mistake: This agreement will help delay and avoid some of the worst consequences of climate change. One of the reasons I ran for this office was to make America a leader in this mission. And over the past eight years, we've done just that."
You can listen to Obama's full remarks in the video above.
—————————————————————————————————————————————————