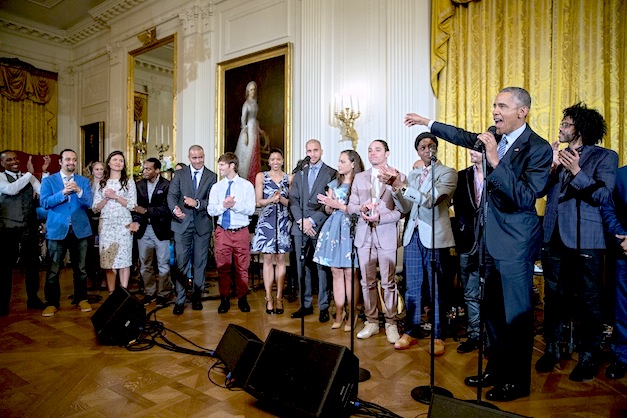 On Monday, the "world turned upside down" in the White House. That's because Barack and Michelle Obama welcomed the cast of Broadway's Hamilton to the White House to host a day full of student workshops, Q&A, and performances, continuing their ongoing effort to highlight all different kinds of American art.
"We wanted to change things up here in the White House a little bit. We wanted to open the doors really wide to a bunch of different folks who usually don't get access to this place," the First Lady said in the opening statement.
Want more positive news? Sign up for our newsletter right HERE. 
"We also wanted to highlight all different kinds of American art on all the art forms – paintings, music, culture … – especially art forms that had never been seen in these walls," she added.
Hamilton captures the story of one of nation's Founding Fathers, Alexander Hamilton, using hip-hop, jazz, blues, rap, R&B, and more musical styles to bring history to life.
We just wrapped an inspiring afternoon working with the students attending #Bam4Ham. Our nation is in good hands. pic.twitter.com/1kFPj9B1vB

— Hamilton (@HamiltonMusical) March 14, 2016
Hamilton was not only known as chief staff aide to General George Washington, but he was also one of the most influential interpreters and promoters of the U.S. Constitution as well as the founder of the Federalist Party, the world's first voter-based political party. He also served as the first Secretary of the Treasury, which made him the primary author of George Washington's economic policies.
The creative minds behind the musical have worked with nonprofit organizations and foundations to make the hit show accessible to as many students as possible, along with developing educational materials to expand on the context of the show.
Want more positive news? Sign up for our newsletter right HERE. 
Yesterday, members of the cast workshopped this curriculum with local students in the East Wing, while Obama took to freestyle-stumping Lin-Manuel Miranda, the show's star, in the Rose Garden (see video below).
In an indirect reference to some candidates currently running for the presidency of the United States, the First Lady summed up the day's mission when she tweeted, "America is not the project of any one person. America is what we make of it."
—————————————————————————————————————————————————
Image Credit: Official White House Photo by Pete Souza