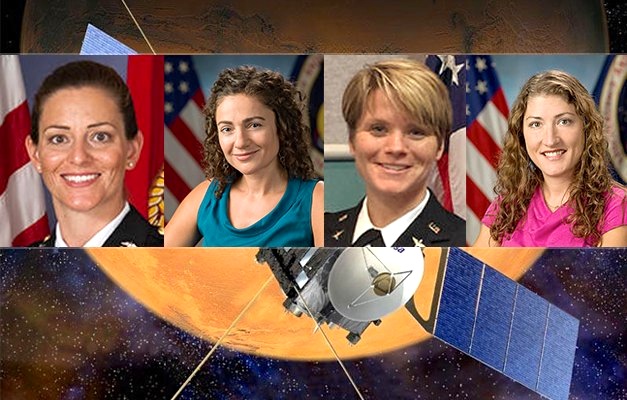 NASA is planning a manned mission to Mars to take place in just 15 years. And four women are already training to be the first humans to walk on the red planet.
Mars is considered to be the next great space exploration. Countries around the world are working to send or have already sent rovers and robots to explore Earth's closest neighbor. NASA, though, is in the early stages of planning a manned mission.
Want more positive news? Sign up for our newsletter right HERE. 
In conjunction with the Elon Musk owned SpaceX, NASA is preparing to send a team of four astronauts to Mars in 15 years — roughly the time it will take to build and test all of the necessary rockets, shuttles, and equipment.
And while it may be a seemingly long wait, four women currently in NASA's astronaut training program are already hard at work preparing for the mission. (From left to right) Astronauts Nicole Aunapu Mann, Anne McClain, Jessica Meir, and Christina Hammock Koch recently let Glamour join them during some of their training in Houston.
"Mars can teach us so much about the past, present, and future of our own planet… That's a phenomenal thing," Meir told Glamour.
The current group of training astronauts mark the first time in the storied history of NASA that 50 percent of the team is female (according to McClain there were over 6,000 applications for the eight spots). Additionally, like never before, women are in instrumental roles in every aspect of the mission, from potentially being on the shuttle, to planning and building the rockets, to working in mission control.
The training, according to Glamour, is rigorous and encompasses skills from all over the spectrum, from mathematical problem solving to learning to pilot a T-38 supersonic jet. "We try to prepare [for everything]. Let's say you get a toothache — will someone on the crew be trained as a dentist?" McClain said.
Want more positive news? Sign up for our newsletter right HERE. 
The Mars mission will be a daunting one. Reaching the planet is expected to take over half of a year, meaning the whole journey will likely take nearly three years or more. But for all its physical, intellectual, and emotional challenges, the Mars mission will be a rewarding one, not just for humankind, but also for those involved.
"If we go to Mars, we'll be representing our entire species in a place we've never been before. To me it's the highest thing a human being can achieve," McClain said.
Meir elaborated, "Trying to understand our place in the universe is what drives me more than anything."
So, while the mission is still well over a decade away, and only four astronauts will likely be selected to partake, the women are hopeful and excited simply to be on the forefront of human existence.
"At one point I saw a classmate in a space suit, and I thought, Oh my God, he's really an astronaut," Meir told Glamour. "And then it hit me: After 30 years of wanting this so badly, I'm an astronaut too."
To read the full Glamour feature, go here.
—————————————————————————————————————————————————
Image Credit: NASA