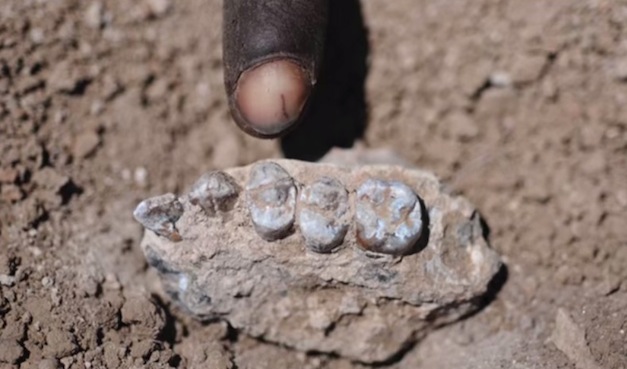 On Wednesday, scientist Dr. Yohannes Haile-Selassie, curator of the Cleveland Museum of Natural History, and his colleagues officially announced their discovery of fossilized jaws and teeth, which provide new evidence that there might have been more than one closely related early human ancestor species.
First discovered in the Woranso-Mille area of the Afar region (northern Ethiopia) in 2011, Haile-Selassie and his team did not realize at the time what they had stumbled upon.
Want more positive news? Sign up for our Weekly Newsletter right HERE. 
Now, after years of research and analysis, the new species has been named "Australopithecus deyiremeda" and is estimated to have existed around 3.3 to 3.5 million years ago. (The word "deyiremeda" translates to "close relative" from the language spoken by citizens of Afar.)
"The new species is yet another confirmation that Lucy's species, Australopithecus afarensis, was not the only potential human ancestor species that roamed in what is now the Afar region of Ethiopia during the middle Pliocene," said Haile-Selassie.
"Current fossil evidence from the Woranso-Mille study area clearly shows that there were at least two, if not three, early human species living at the same time and in close geographic proximity," Haile-Selassie added about the results of his discovery just 21.7 miles from where Lucy and other Australopithecus afarensis individuals were previously found.
What's interesting about the new species – Australopithecus deyiremeda – is that it must have lived around the same time and location as Lucy, one of the closest ancestors to humans estimated to have lived between 2.9 and 3.8 million years ago.
Want more positive news? Sign up for our Weekly Newsletter right HERE. 
"Australopithecus deyiremeda differs from Lucy's species in terms of the shape and size of its thick-enameled teeth and the robust architecture of its lower jaws," the Cleveland Museum of Natural History shared in a blog post, adding that the anterior teeth are also relatively small – smaller than those of its geographical neighbors – indicating that it probably had a different diet.
"This new species from Ethiopia takes the ongoing debate on early hominin diversity to another level," Haile-Selassie concluded. It opens up the debate to wonder if hominins – species more closely related to humans than to apes – may have diversified much earlier than previously believed.
—————————————————————————————————————————————————
SUPPORT
(as provided by the Cleveland Museum of Natural History)
The Authority for Research and Conservation of Cultural Heritage (ARCCH) of the Ministry of Culture and Tourism of the Ethiopian government annually issues fieldwork research permit to the Woranso-Mille project. The National Museum of Ethiopia and the Directorate of Collections, Curation, and Laboratory Services of ARCCH provided laboratory research facility and fossil storage space. The Afar Regional State, Mille District administration, and the local Afar people of Waki and Waytaleyta areas facilitated the fieldwork. The Woranso-Mille project field and laboratory work were financially supported by grants from the National Science Foundation.
—————————————————————————————————————————————————