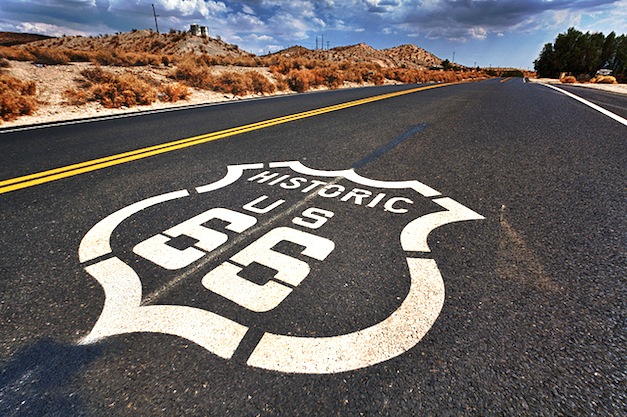 The Missouri Department of Transportation, and Idaho-based smart energy company Solar Roadways (better known as the company coining the phrase "Solar FREAKIN' Roadways" in a 2014 viral video, which you can view below), are partnering up to make a stretch of Route 66 the first road in the United States to be paved with energy producing solar panels. Installation of the panels will reportedly begin by the end of this year.
Co-founders Julie and Scott Brusaw have created a solar panel with a layer of tempered, protective glass on top so that the panel can be applied to sidewalks, roads, pavement, or any surface really — creating a seemingly infinite energy source far more adaptable than standard roof panels converting sunlight into energy.
Their estimates show that if all the roads in the country were paved with solar panels, it would create 13,385 billion kilowatts, which is three times the amount of energy consumed in the U.S. in 2009.
Want more positive news? Sign up for our newsletter right HERE. 
According to the Solar Roadways website, "Many people are surprised to learn that our panels are made of glass. SR panels are made of specifically formulated tempered glass, which can support the weight of semi-trucks. The glass has a tractioned surface which is equivalent to asphalt."
Solar Roadways panels have heating elements so freezing can be avoided during snowy and icy weather. They are also pressure sensitive, and contain microprocessors to warn drivers about traffic or obstructions in the road ahead.
LED lights are installed in each panel, so painting and repainting parts of the road would become obsolete, and nighttime driving would become safer. Also, individual panels can be replaced without turning off the whole system, so road repair would be much easier. (Check out our list of 7 Reasons Solar Roadways Might Blow Your Mind for more info.)
Historic Route 66 in Missouri was the first swathe of road in the nation to become a highway, and now it's taking the first steps towards a future of contributing to sustainable energy practices as part of Missouri's Road to Tomorrow Initiative.
Stephen Miller of the Missouri Highways and Transportation Commission said in a statement, "It's only appropriate that the rebirth of the nation's interstate system begin at its birthplace."
Want more positive news? Sign up for our newsletter right HERE. 
The world's first solar powered road made of energy producing panels was unveiled in the Netherlands in 2014. The latest paved section of solar panels will be 20-by-12 foot panels covering sidewalks at the Welcome Center in Conway, Missouri, and other rest areas off of Route 66.
Solar Roadways previously had a successful crowdfunding campaign reaching $2.2 million, more than doubling their initial goal of $1 million, and they have plans to expand their goal of covering America's roads in solar panels.
—————————————————————————————————————————————————
Image Credit: Historic Route 66 by Randy Heinitz / CC License 2.0 via Flickr