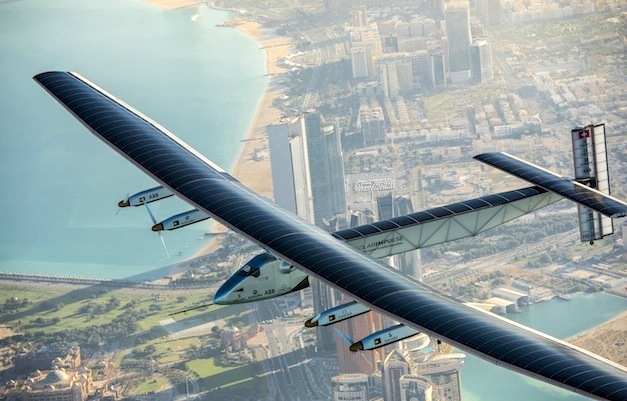 On March 9, 2015, Swiss pilots Bertrand Piccard and André Borschberg embarked on a journey to complete the first round-the-world flight with a solar-powered airplane. "Solar Impulse is the only airplane of perpetual endurance, able to fly day and night on solar power, without a drop of fuel," the company describes the innovative machine (learn more about the technical details at the end of this article).
Yesterday, Piccard and Borschberg broke all distance and duration world records for solar aviation (80 hours and 5,663 km / 3,519 miles) by remaining airborne three consecutive days and nights.
Want more positive news? Sign up for our Weekly Newsletter right HERE. 
"Can you imagine that a solar-powered airplane without fuel can now fly longer than a jet plane," said Piccard, initiator, chairman and pilot of Solar Impulse. "This is a clear message that clean technologies can achieve impossible goals!"
By flying above the Pacific Ocean for over 80 hours, André Borschberg, co-founder, CEO and pilot of Solar Impulse, is currently also achieving the longest non-stop solo flight without refueling between Nagoya (Japan) and Hawaii in terms of duration.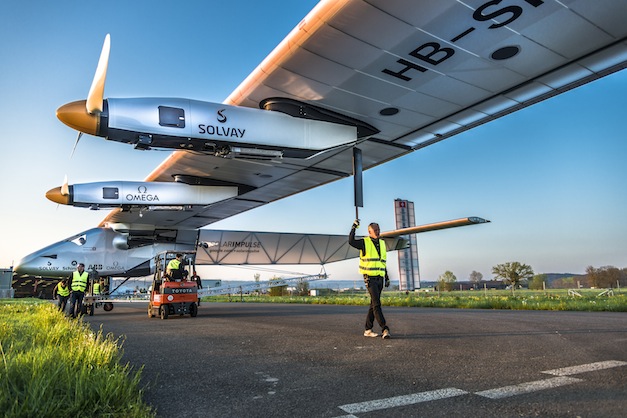 This exceeds the previous record held by American adventurer Steve Fossett, who, in 2006, realized a 76 hours non-stop flight to circumnavigate the globe on board of Virgin Atlantic Global Flyer.
To make the full trip around the globe with the Solar Impulse plane, the following route has been planned:
Abu Dhabi to Muscat
Muscat to Ahmedabad
Ahmedabad to Varanasi
Varanasi to Mandalay
Mandalay to Chongquing
Chongquing to Nanjing
Nanjing to Hawaii
Hawaii to Phoenix
Phoenix to Mid. USA
USA to New York
New York to Europe / North Africa
Europe / North Africa to Abu Dhabi
Currently, Piccard and Borschberg have completed 73% of their flight to Hawaii, which will total approximately 120 hours by the time they land in Honolulu.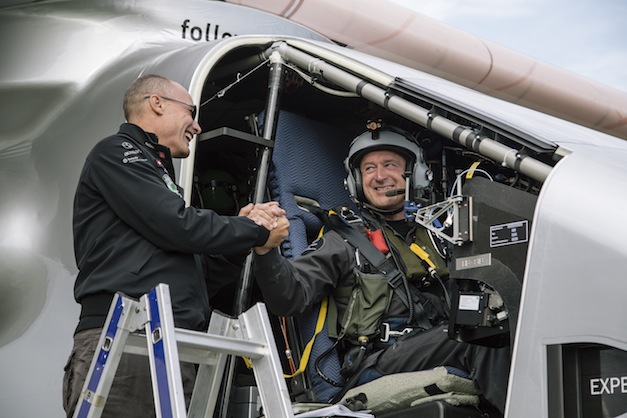 "The first 24 hours were very technical", said André Borschberg, "but the second day was really getting me into the mission. It took me a while to create a relationship of trust with the airplane, which allows me to rest and eventually sleep by periods of 20 minutes with the autopilot. The experience of flight is so intense that I can only focus on the present moment and discover how to deal with my own energy and mindset."
If André's flight is successful, Bertrand will then take over for the flight to Phoenix, Arizona. After that, the journey will take the two explorers, flying alternatively in the single-seater 134 cubic foot (3.8 cubic meter) cockpit, across the United States, the Atlantic and back to Abu Dhabi where the journey started back in March.
Want more positive news? Sign up for our Weekly Newsletter right HERE. 
The main goal of this adventure is to collect millions of voices for FutureisClean.org, an initiative aiming to encourage governments to replace old polluting devices with new clean technology, in order to save energy, natural resources and decrease CO2 emissions in a profitable way, creating jobs and economic growth while protecting the environment.
To learn more about Solar Impulse and follow the journey via live video, head over to the official project website right here.
About the Plane
Solar Impulse 2 is a single-seater airplane with a wingspan of 236 ft (72m) and total weight of only 2.3 tons. To put this into perspective, a 747 jumbo jet has maximum takeoff weight of almost 500,000 tons and a wingspan that reaches 196 ft. (60m).
A total of 17,000 solar cells are installed on top of the wings to power the airplane and charge lithium-ion batteries that sustain the aircraft to fly at night.
Solar Impulse 2, as the name implies, is the second iteration of a solar-powered airplane the company has built. Check out the video above to see some spectacular footage of Solar Impulse 1 as well as the preparation and construction of the new aircraft now traveling around the world.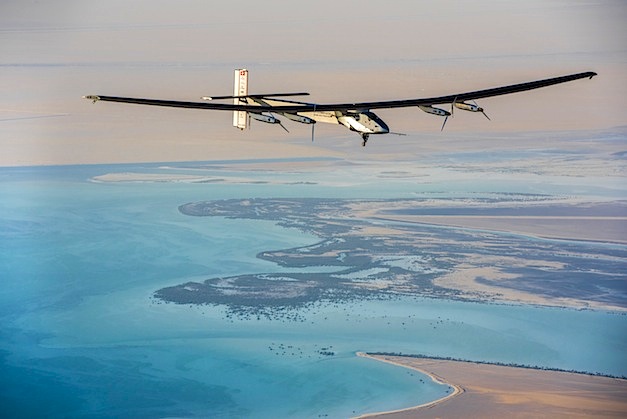 About the Pilots
"Bertrand Piccard, a doctor, psychiatrist, explorer and aeronaut, who made the first non-stop round-the-world balloon flight, is the initiator and chairman," according to company's website.
Piccard's family is not new to pushing boundaries. In fact, Piccard's father (Jacques) was the first man to reach the deepest place in the ocean in 1960, and Piccard's grandfather (Auguste) was the first person take a balloon into the stratosphere in 1931, according to BBC News.
Want more positive news? Sign up for our Weekly Newsletter right HERE. 
André Borschberg, on the other hand, is "an engineer and graduate in management science, a fighter pilot and a professional airplane and helicopter pilot." He is the co-founder and CEO of Solar Impulse.
On Solar Impulse 2's first flight to Muscat, Borschberg was the pilot controlling the airplane when it took off and landed.
"Solar Impulse is not only about attempting the First Round-The-World Solar Flight, behind the aeronautic record lies a very powerful message Bertrand Piccard and André Borschberg want to share with the world. Existing clean technologies and pioneering spirit can change the world. Future is clean, but we cannot do it without you," Solar Impulse concludes.
—————————————————————————————————————————————————
All Images Copyright © 2015 by Solar Impulse