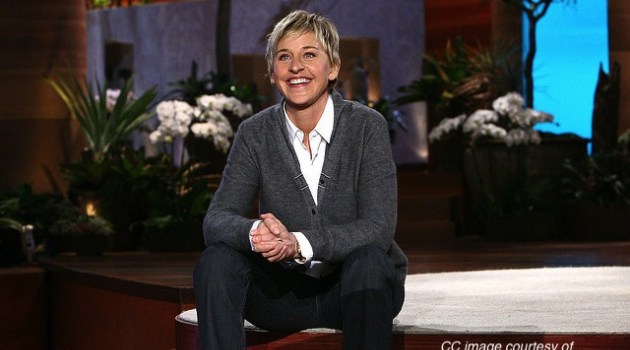 When Edgar Martirosyan arrived at the Dolby Theatre to deliver pizzas, he assumed he would hand off the pies to hungry writers working at the 2014 Oscars. Instead, the co-owner of the Hollywood pizza joint, Big Mama's and Papa's Pizza, got a big surprise. And an even bigger tip!
Before Martirosyan knew what was happening, Oscar host Ellen DeGeneres led him onstage and out into the audience to hand out slices to some of the silver screen's greatest stars, he explained on "The Ellen DeGeneres Show."
Martirosyan called the delivery "the American dream."
Ellen, who collected about $600 during the Oscars by passing around Pharrell Williams' hat, added another $400 from her pocket and gave the tip to Martirosyan on "The Ellen Show."
This just reminds us that we can always count on Ellen to make us smile. Here are six more reasons Ellen completely rocks.
1. She made our hearts skip a beat when she gave four-year-old Internet phenomenon Kai the solo of his life. He sang a painfully adorable rendition of Bruno Mars' "Grenade" on Ellen's show.
2. She's wickedly funny. She was the first female comedian invited to appear on "The Tonight Show Starring Johnny Carson" in 1986.
3. Ellen is brave. She came out in 1996 on the cover of TIME magazine under the matter-of-fact headline "Yep, I'm Gay
4. Ellen is a prankster. One time Ellen sent a writer of her show into CostCo to recite song lyrics to strangers. The result was hilarious. One older man after being talked to in Katy Perry lyrics said the interaction made his day!
5. Ellen gets what's important in life. In response to critics of JCPenney's choice to make Ellen, who is openly gay, a spokesperson for the store, she stated: "I want to be clear and here are the values that I stand for. I stand for honesty, equality, kindness, compassion, treating people the way you want to be treated, and helping those in need. To me those are traditional values. That's what I stand for."
6. Ellen is cool with being impersonated. When SNL's Kate McKinnon came on the Ellen show, there were two Ellens, and it was awkwardly awesome.
Ellen is one of those people who simply "gets it." She knows what's truly important, but she doesn't mind making light of any situation. She is proud of who she is and she motivates others to be proud too. A true "Luminary of the Week", we'd share a slice of pizza with Ellen any day.