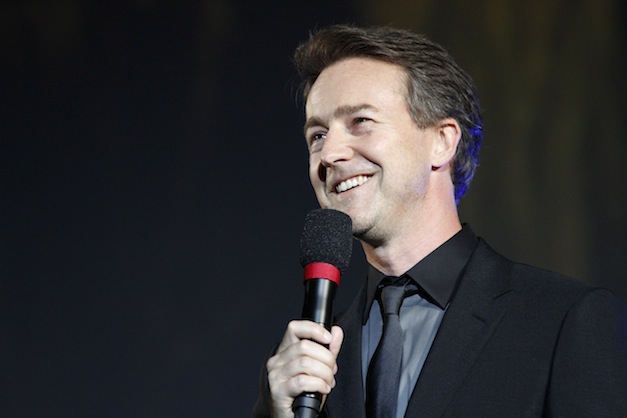 A crowd funding campaign started by Edward Norton to help raise money for a Syrian refugee family has raised over $450,000.
Earlier this month, the popular blog Humans Of New York (HONY) began running a series called "Syrian American." The series of photographs and stories focus on 12 families that were all approved for resettlement in America. The interviews were conducted in Jordan and Turkey. One such interview was with The Scientist.
Want more positive news? Sign up for our newsletter right HERE. 
Photographed and interviewed in Istanbul, Turkey, The Scientist, as he is known, and his son and daughter are Syrian refugees. They had been living in Turkey for two years when HONY caught up with them. Before fleeing from Syria, two bombs struck the family's house killing The Scientist's wife and one of his daughters and his brother's entire family. But despite the tragedy he suffered, The Scientist remained intent on helping the world.
The powerful seven-part story caught the attention of Norton, an Oscar nominated actor from such films as "Birdman" and "Fight Club," who said the story moved him to tears.
"This man has suffered profound loss that would crush the spirit of many people and yet he still passionately wants a chance to contribute positively to the world," Norton wrote on CrowdRise. "If we don't welcome people like this into our communities and empower his dream of making an impact with his life, then we're not the country we tell ourselves we are."
Partnering with HONY, Norton set up a CrowdRise campaign to help raise money for The Scientist and his family. So far Norton and other donors have pitched in over $450,000 to help The Scientist get medical treatment for the cancer he has been diagnosed with and to help the family comfortably resettle in their new town, Troy, Michigan.
Want more positive news? Sign up for our newsletter right HERE. 
After going viral, The Scientist's story also caught the attention of President Obama, who left a heartfelt Facebook comment in response: "As a husband and a father, I cannot even begin to imagine the loss you've endured. You and your family are an inspiration. I know that the great people of Michigan will embrace you with the compassion and support you deserve," he wrote. "Yes, you can still make a difference in the world, and we're proud that you'll pursue your dreams here. Welcome to your new home. You're part of what makes America great."
The campaign, which came just a few short weeks after Congress rushed a bill through the House that would restrict Syrian refugees from settling in America in the wake of the November 13 terrorist attacks in Paris, highlights the unwavering support average Americans are willing to lend to those in need. (The Congressional bill is expected to die in the Senate).
"Let's reject the 'anti-human' voices that tell us to fear refugees and show this man and his family what Americans are really made of," Norton wrote on CrowdRise. "Let's show that a country built by the energy and dreams of immigrants still believes in brave people who come here with hope for better life."
—————————————————————————————————————————————————
Image Credit: "Edward Norton" by Sailas Vanetti, Festival del film Locarno