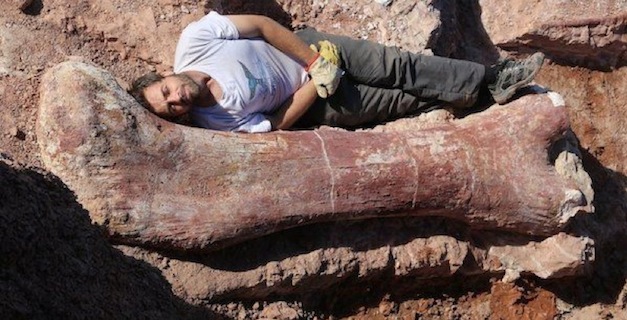 Step aside Godzilla, there's a bigger monster in town. The remains of a dinosaur that would have stood seven stories tall were just unearthed in Argentina.
Scientists are saying that this before undiscovered species of titanosaur was actually a herbivore and lived during the Late Cretaceous period about 95 million years ago.
Scientists studying the thigh bones of the dinosaur say it would have been 130 feet long, 65 feet tall, and 85 tons. For scale, that's half the weight of the largest animal on earth, the blue whale!
The bones were found by a farmer in the desert about 135 miles west of Patagonia in Argentina. About 150 bones have been found in excellent condition. Scientists have found many different bones, including neck bones, a lot of the back, the tail, and legs.
"The remains are quite complete, so the size and weight estimates have good precision," José Luis Carballido, a dinosaur specialist at Paleontological Museum Egidio Feruglio, told NBC News. "If there ever was a larger one, it remains to be seen."
Follow Luminary Daily's board Fascinating Discoveries on Pinterest.