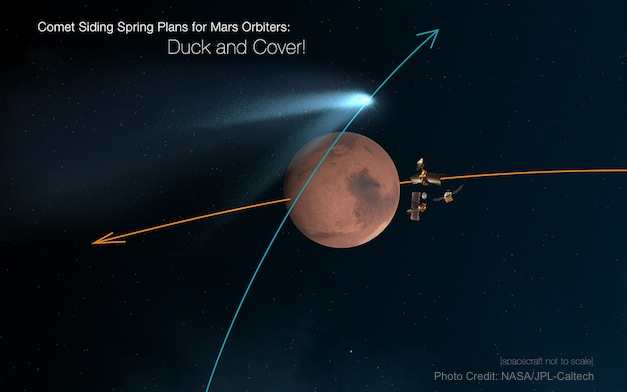 An once-in-a-lifetime astronomical event will occur today at 2:27 p.m. EST, as the comet 'Siding Spring' grazes past the atmosphere of Mars, coming closer to the planet than ever before… for the first time in a million years in fact.
Siding Spring will come within 87,000 of the Red Planet, which, according to NASA, is less than half the distance between Earth and our moon and less than one-tenth the distance of any known comet flyby of Earth.
"This is a cosmic science gift that could potentially keep on giving, and the agency's diverse science missions will be in full receive mode," said John Grunsfeld, astronaut and associate administrator of NASA's Science Mission Directorate in Washington, D.C., in a statement. "This particular comet has never before entered the inner solar system, so it will provide a fresh source of clues to our solar system's earliest days.
What's so thrilling about this is experience is that the scientific community will be able to track the close contact with the many orbiters and Mars rovers that have travelled to Mars.
"Think about a comet that started its travel probably at the dawn of man and it's just coming in close now," said Carey Lisse, a senior astrophysicist at the Johns Hopkins University Applied Physics Laboratory, in a NASA news briefing. "And the reason we can actually observe it is because we have built satellites and rovers. We've now got outposts around Mars."
Want more positive news? Sign up for our Weekly Newsletter right HERE. 
Mars orbiters have prepared for this event, ducking behind the far side of the planet and taking extra precautions against dust and particles from the comet traveling at high speeds.
It might be possible to observe this event from Earth if you have a handy telescope. Look west and low to the horizon after sunset to see something that only happens once in millions of years!
To find out more, watch the video below in which NASA scientist Michelle Thaler explains the details of this extraordinary event.