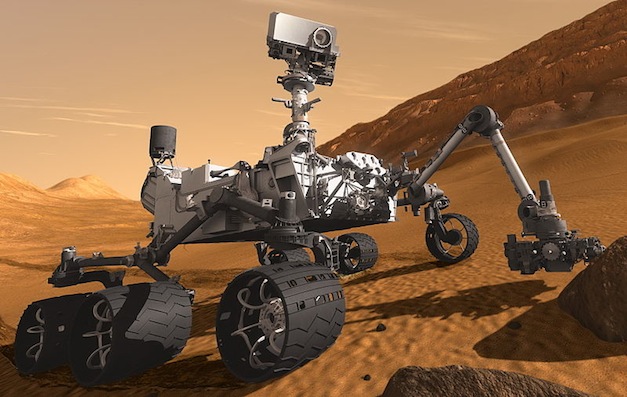 After many proposals received from researchers and engineers worldwide, NASA has announced the instruments that the Mars rover will take to the Red Planet in 2020. We're especially excited because some of those tools will include a super-laser and X-Ray vision!
The rover will be a technical upgrade to the space agency's Curiosity rover (pictured above) that is currently conducting scientific exploration on Mars. The so-far unnamed 2020 Mars rover, that has the same skeleton as its predecessor, will have an improved camera system that will be able to capture details of the planet's surface invisible to the naked eye. It will also be able to focus on things miles away from the actual rover.
Some other features include: an x-ray imager that will be able to detect and analyze chemicals, UV lasers to detect organic compounds, instruments to turn carbon dioxide into oxygen, and a group of sensors to measure wind, temperature, humidity, and environmental elements.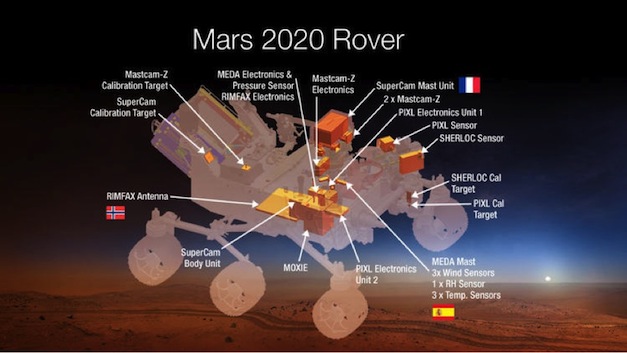 With these new instruments, scientists hope they will be able to detect past or present signs of life on the planet. It will also collect samples for future missions to pick up.
"The Mars 2020 rover, with these new advanced scientific instruments, including those from our international partners, holds the promise to unlock more mysteries of Mars' past as revealed in the geological record," said John Grunsfeld, astronaut and associate administrator of NASA's Science Mission Directorate in Washington.
"This mission will further our search for life in the universe and also offer opportunities to advance new capabilities in exploration technology."
Because of the huge interest in exploring Martian land, NASA received an unusually large amount of submissions for rover instruments. If the 2020 mission is successful, we might be able to utilize natural resources available on the planet or make future human travel to Mars possible.
"Today we take another important step on our journey to Mars," said NASA Administrator Charles Bolden. "While getting to and landing on Mars is hard, Curiosity was an iconic example of how our robotic scientific explorers are paving the way for humans to pioneer Mars and beyond. Mars exploration will be this generation's legacy, and the Mars 2020 rover will be another critical step on humans' journey to the Red Planet."